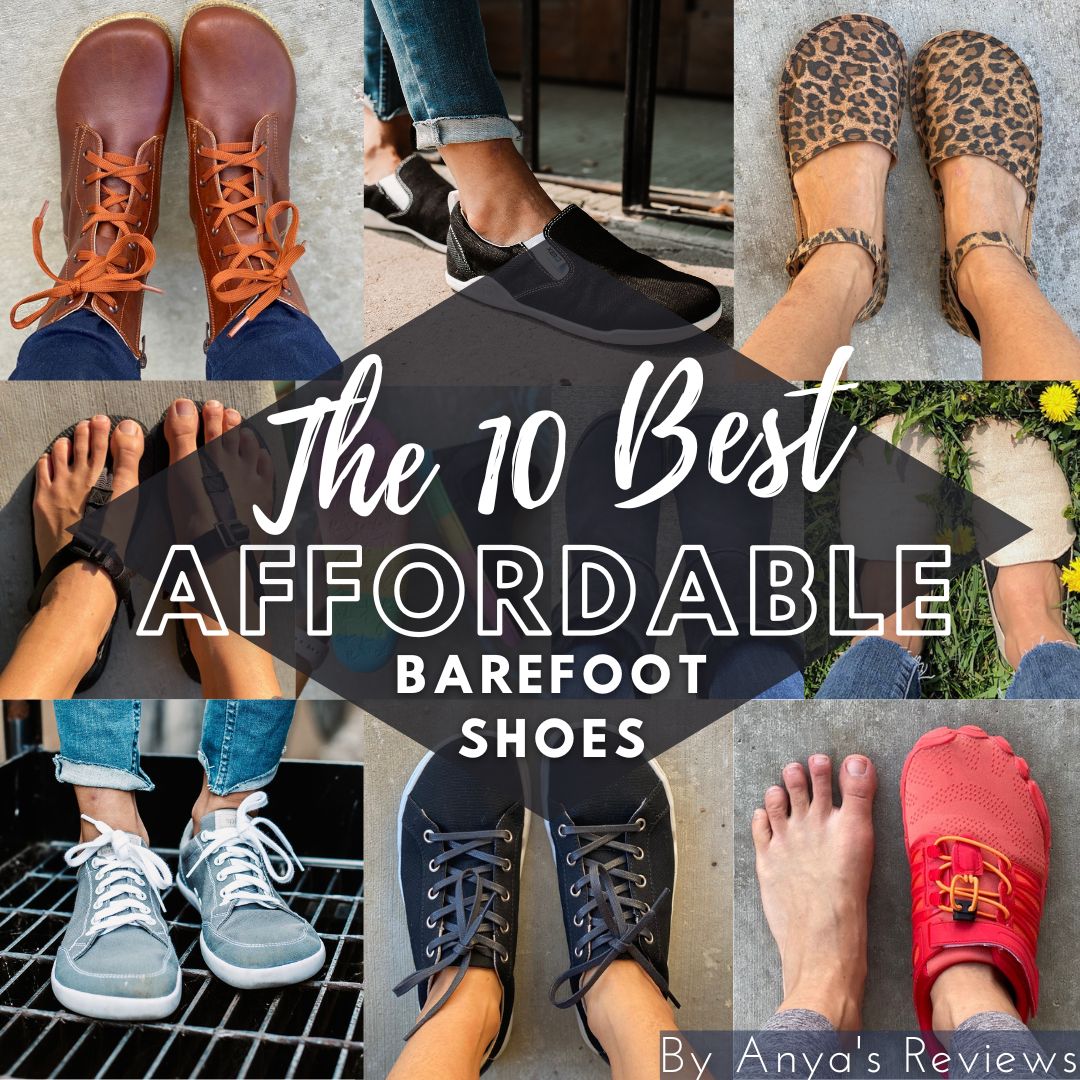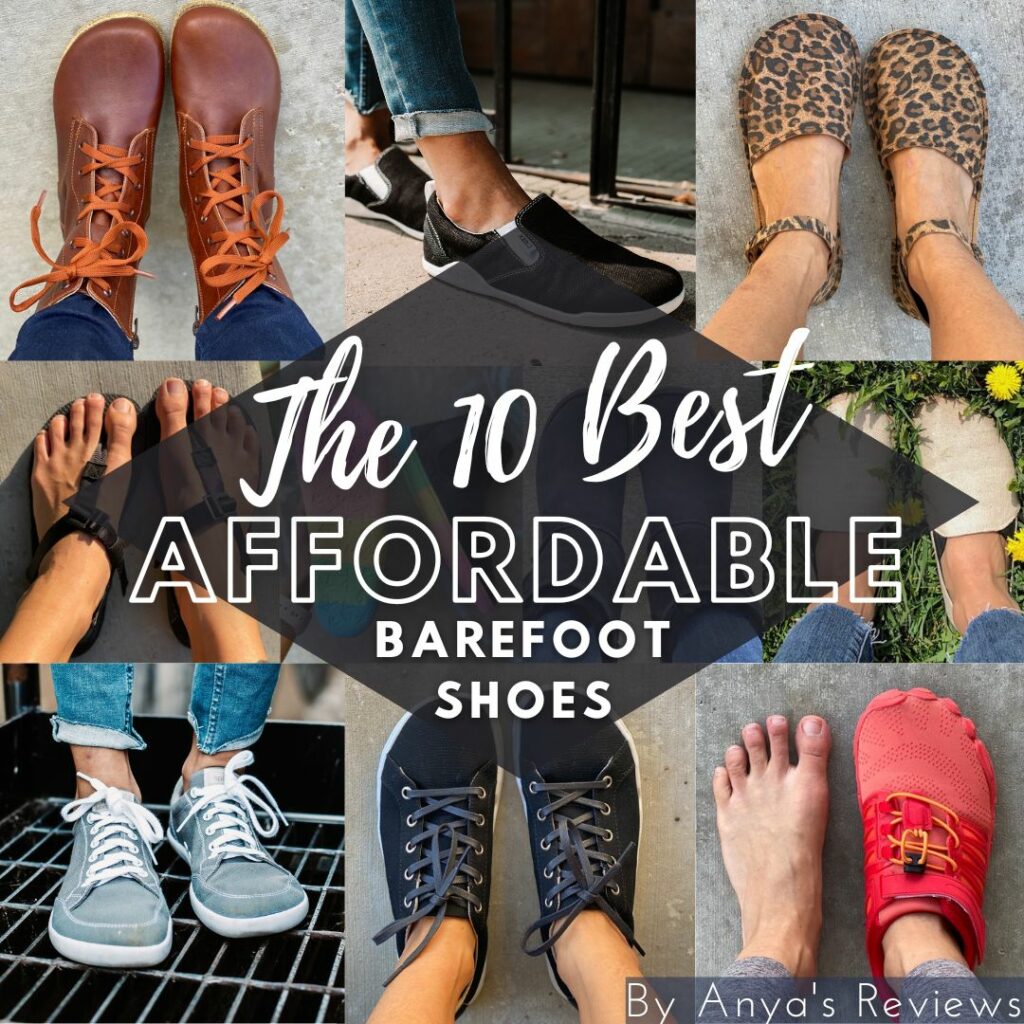 At first glance it might seem like barefoot shoes are expensive, but there are a surprising number of good options at low price points. After trying hundreds of pairs, these are my top 10 picks for Affordable Barefoot Shoes for Adults – it includes sneakers, sandals, boots, and even dress shoe options, starting at $40!
Years ago I researched all the cheapest barefoot shoe options for both adults and kids, and I discovered there were a LOT more than people realized. But when dealing with cheap shoes there are some trade offs – the quality can be hit or miss, and oftentimes they do not have as natural of a foot shape as the more expensive (and better quality) barefoot shoe brands. It turns out there are some good reasons why many barefoot shoes are expensive.
So I set out to find the lowest priced options that still are genuinely good shoes AND meet my healthy shoe requirements. This is my curated list of the 10 best affordable barefoot shoes for adults!
Want to see the full lists of budget barefoot shoes? See below.
And if you'd like to save a little $$ on the more expensive brands, bookmark my Sales & Discounts page that is updated every few days!
While this list focuses on the cheapest barefoot shoes in North America, it also includes options from around the world. So read to the end! If you want to find more options closer to you, check out this brands/retailers by region list.
Or take the quiz at BarefootShoeFinder.com.
And if you want an explanation for the sizing & fit terms used here, read this article on foot type.
---
Origo Cotton Canvas Sneakers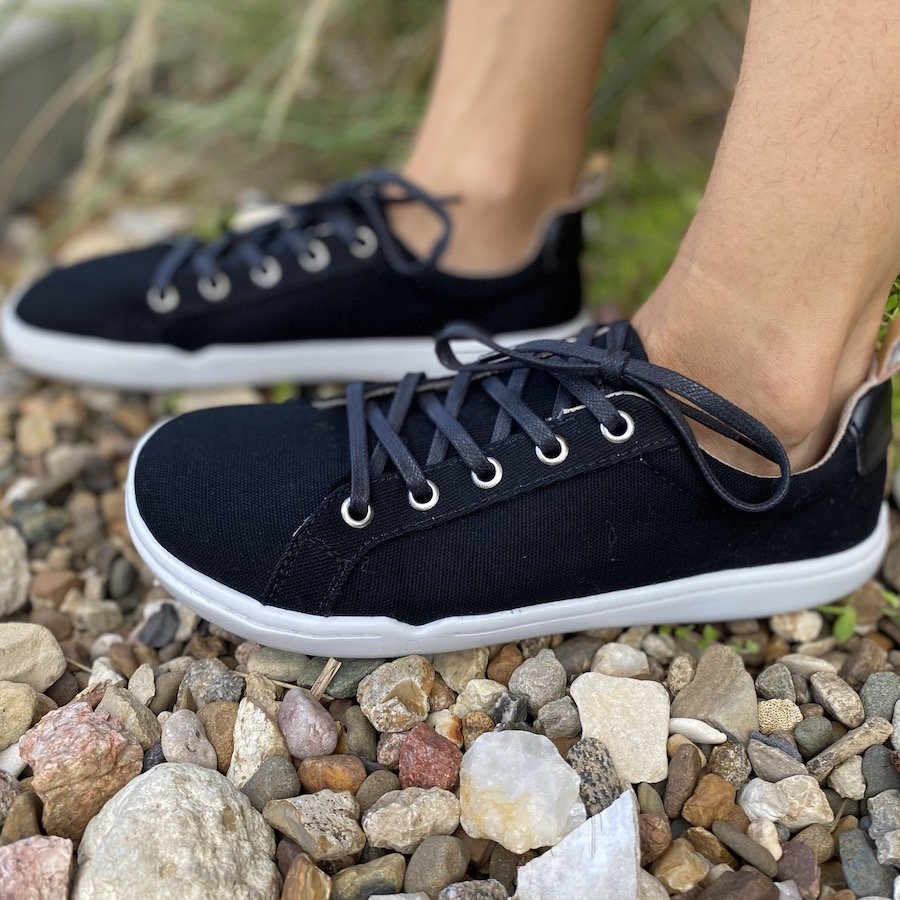 $78 after coupon | Vegan | Sizes US 8 Toddler – Men's 15 | USA & Canada Only (for now)
Use code ANYA for 10% off.
Origo shoes' mission is to make it easy for people to wear what's best for their bodies by offering affordable AND stylish options. For the price, these are in my opinion the best quality barefoot shoe you can get.
They canvas doesn't look dingy once worn in, and the sole isn't wearing away quickly. The laces are also durable (cheap options often skimp on the laces). And I think they genuinely look cool! Biggest drawback is that the canvas feels a little stiff at first and takes a few wears to break in.
Sizing & Fit Type:
True to size
Best for average to wide feet
Medium volume
---
Whitin Barefoot Shoes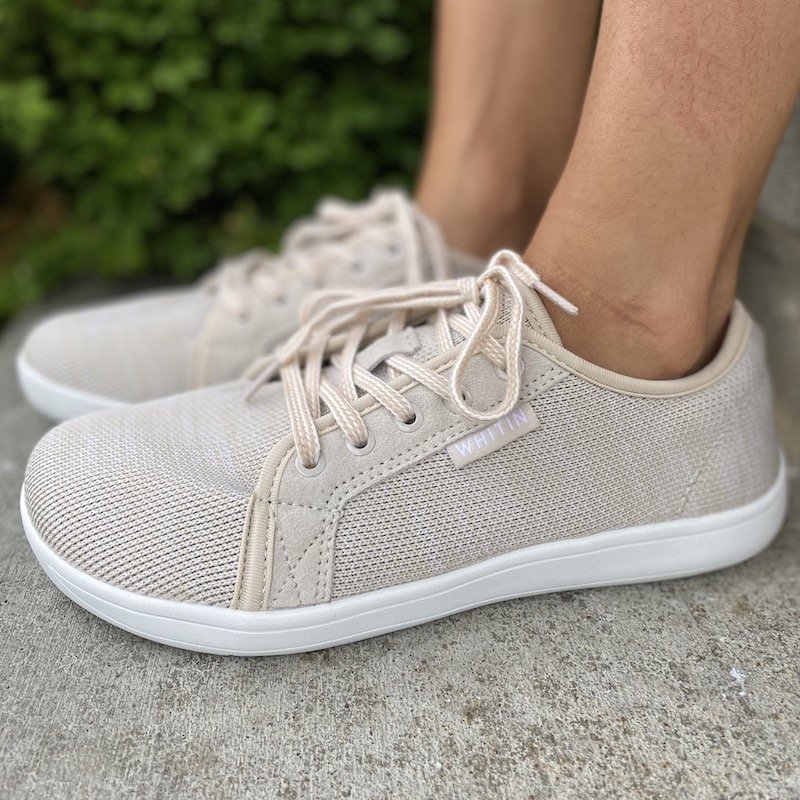 $40 | Vegan | Sizes EU 36-46 | Ships from Amazon Worldwide
Whitin makes some of the lowest priced barefoot shoes you will find, and they are pretty solid for the cost! You can find sneakers, casual sneakers, and even a loafer style all between $40 and $50. They look pretty mainstream too, which makes them great for growing teens.
The quality is definitely lower than Origo (the shoe laces on the casual sneakers are flimsy as hell), and it can be sometimes confusing to know what you're ordering because the product offerings change frequently. But for people on a tight budget, these are a lifesaver.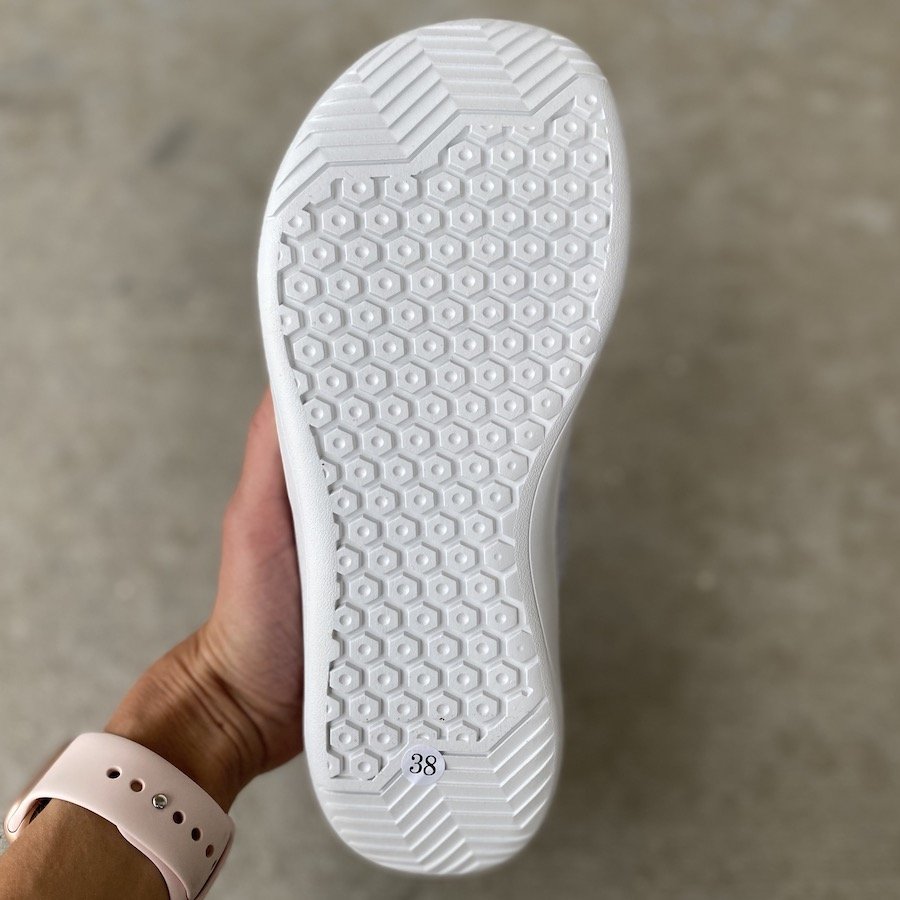 Currently the widest options are under the tab "Wide Barefoot." But this is primarily casual shoes. If you're looking at the athletic sneakers in the "Barefoot" section then I recommend choosing the models that have the type of outsole you see below: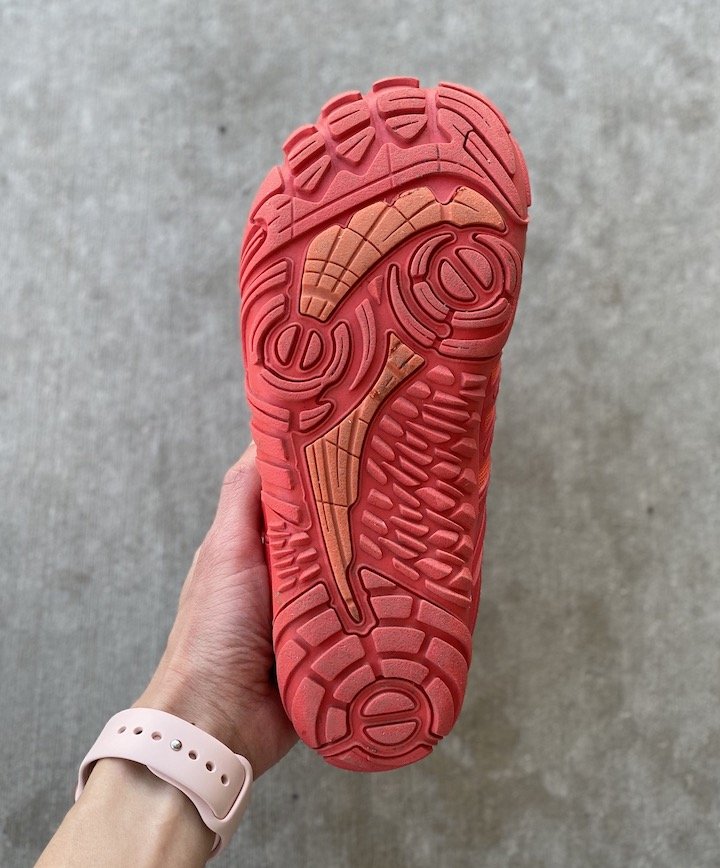 These are the Trail Runners, and have been the most durable of the Whitin shoes for me. The other sneaker styles in the "Barefoot" section are pretty narrow and tapered, and the toe spring is bothersome to me. But if you stick to the sole type shown above and anything in the "Wide Barefoot" section you should get a shoe that's great for wide feet with lots of toe room.
It's also important to note that the running shoes come with an insole that is not 100% barefoot-friendly: it has a small heel lift and some mild arch support. Feel free to use it if you are in a transition stage or need just a bit of support, but swap it out for a different insole if you want a true barefoot shoe experience. You could also go without the insole, but it can make the shoes too spacious on some foot types (the inside is not as comfortable without the insole either).
Sizing & Fit Type:
This is where things get tricky, because the product descriptions are not so helpful and Whitin seems to be changing things often. But after trying about 12 different pairs over the course of a few years, this is my general sense of the brand:
Runs slightly small, we sized up in everything
Fits average to extra wide feet depending on the model – Men's are wider than women's.
Athletic shoes are medium volume (will work for high without insole), and casual shoes are high volume.
---
Saguaro Shoes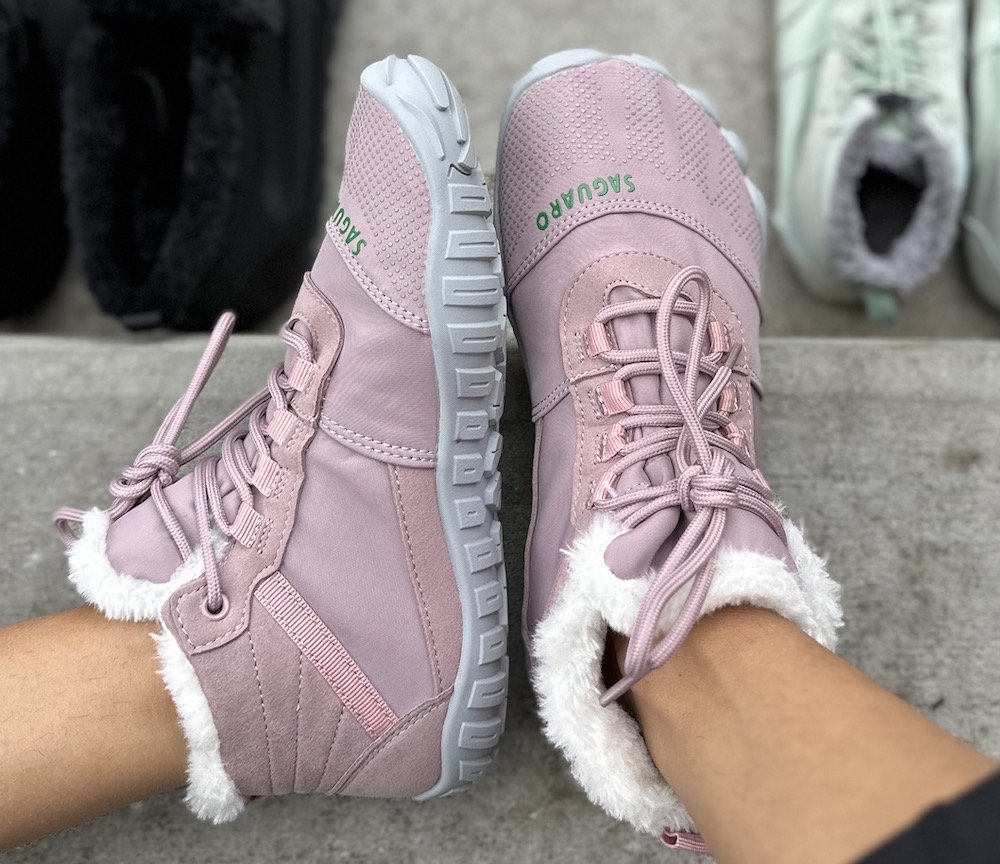 $34-50 | Vegan | Sizes EU 36-46 | Ships from China
Use code ANYASREVIEWS for 15% off.
Saguaro shoes sneakers (shown above) cost only $34 after my discount code, and they are very comfortable and wide. Like Whitin, the adult models come with an insole that isn't totally flat – so you get to choose if you want to use it as a transition insole, or remove it for a very thin, flexible shoe.
Personally, I find the knit sneakers and the winter Will model from Saguaro to be the most comfortable. I don't care for the neoprene models, and the lifestyle shoes that I've tried are hit or miss – the faux leather can be stiff. But it's hard to beat $34 for a super comfy sneaker with a wide fit!
Sizing & Fit Type:
Runs small, I sized up in everything
Fits average to extra wide feet depending on the model – sneakers with the five toe look are the widest.
Athletic shoes are medium volume (will work for high without insole), and casual shoes are high volume.
---
Splay Freestyle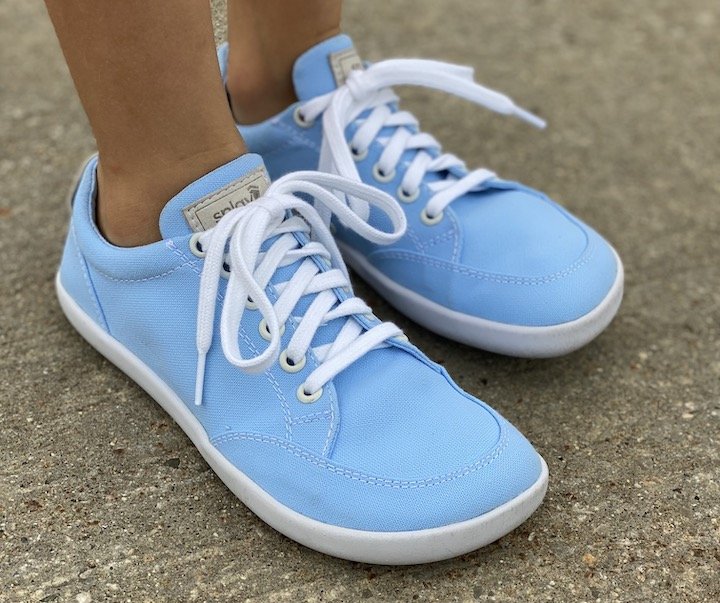 $62 after coupon | Vegan | Sizes US 8 Toddler to Men's 13 | Ships from USA
Use code ANYASREVIEWS for 10% off
Splay shoes have been really popular in the barefoot shoe community for offering a stylish shoe at a good price. They are a great alternative to Keds and Vans that give you more toe space and a more flexible sole. And they come in the full range of sizes, so everyone in my house can wear them! Read my full Splay Review here.
The upper is cotton canvas and it does get dirty after a while, but fortunately you can machine wash them. I find they don't wear quite as well as Origo and start to look a little haggard after many uses, but for the price they are still great value.
Sizing & Fit Type:
Runs slightly small
Fit wide
Low volume
---
Unshoes Terra Vida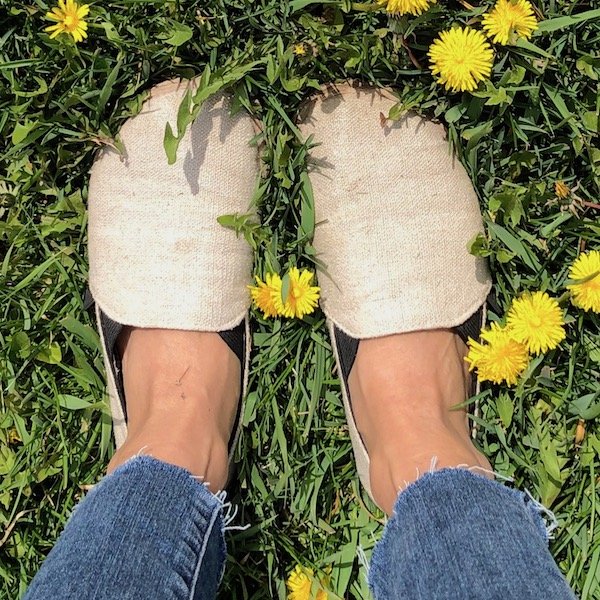 $74 after coupon | Vegan | Sizes US Women's 5 – Men's 13 | Ships from USA
Use code ANYA for 10% off
The Unshoes Terra Vida is a long time favorite of mine, they were one of my first barefoot shoes and I am still rocking them. You can read my Terra Vida review here. They are neutral, light, and breathable. Not the most durable of shoes (if you scuff the front a lot it can fray), but for everyday walking and errands they are perfect.
The soles are very thin, so if you are brand new to barefoot shoes it can be a lot (I wore NorthSole insoles in mine for the first year or so).
I also love the Wokova Feathers as a budget barefoot sandal from Unshoes.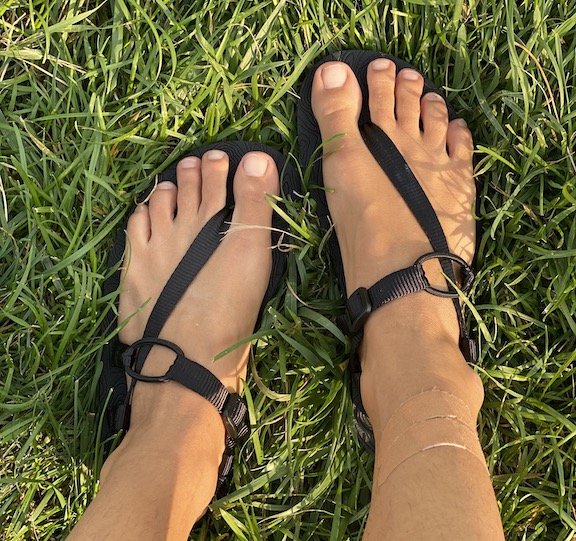 Sizing & Fit Type:
Terra Vida stretches a lot, so it's recommended to size down 1/2 size (sandals are true)
Best for wide feet
Medium volume
If you size down they will feel short at first, but then break in. If you don't size down, they might end up feeling too loose once broken in.
---
Anatomic Sneakers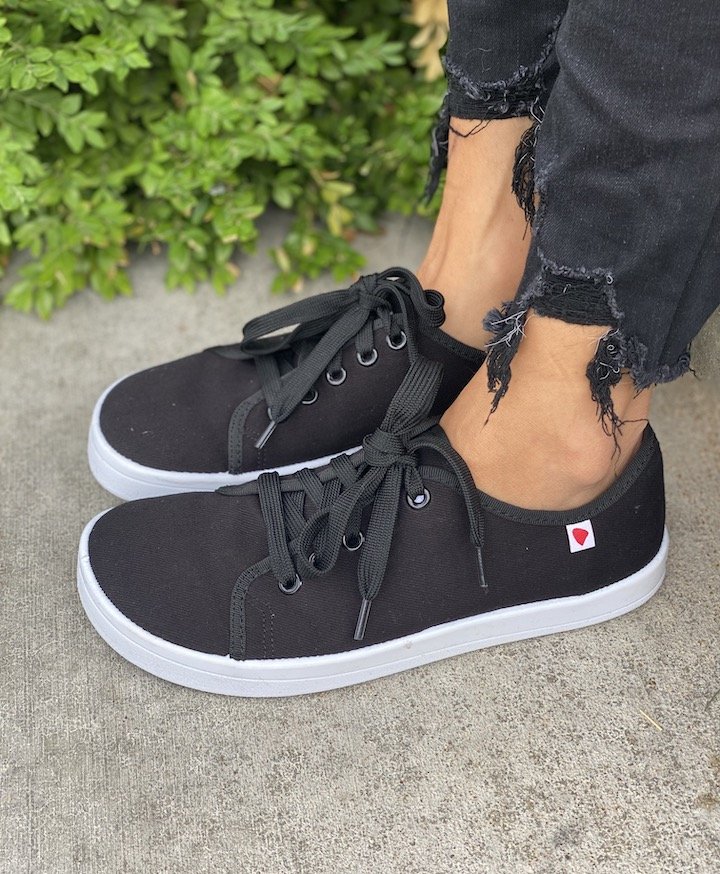 €30 | Cotton & Polyester (Vegan) | Sizes EU 36-45 | Ships from EU
Anatomic4All.eu does not ship worldwide, but Tupsunupsu (EU) does! If you're in the US, check them out at PedTerra.
Anatomic is a European brand, but even if you have to ship them overseas they are pretty cheap. People love them because they look mainstream, but are still really wide in the toe box. And they have a little more cushion than other barefoot shoes so work well as a first pair for newbies. Anatomic makes slip ons and even a waterproof model all at this low price point (and some leather sneakers that are more expensive).
Sizing & Fit Type:
Runs a little small
Good for wide feet
Medium volume
---
Xero Shoes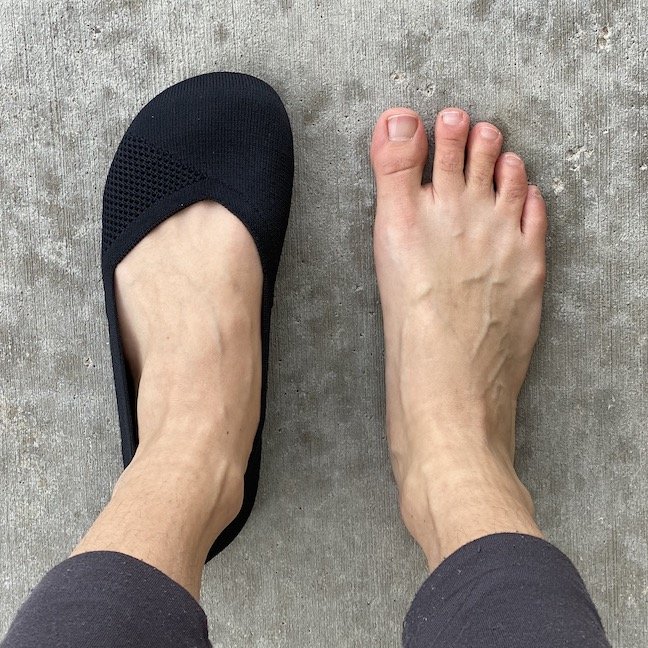 $42-$75 | Vegan | Sizes US Women's 5 – Men's 15 | Ships from US or EU
Xero shoes has many different styles, and a handful of them are quite affordable. My personal affordable favorites from Xero Shoes are the following:
They also have cheap DIY sandals.
For more info on this brand, read all my Xero Shoes Reviews here!
Sizing & Fit Type:
True to size
Average to wide foot width
High volume
---
Shamma Cruzer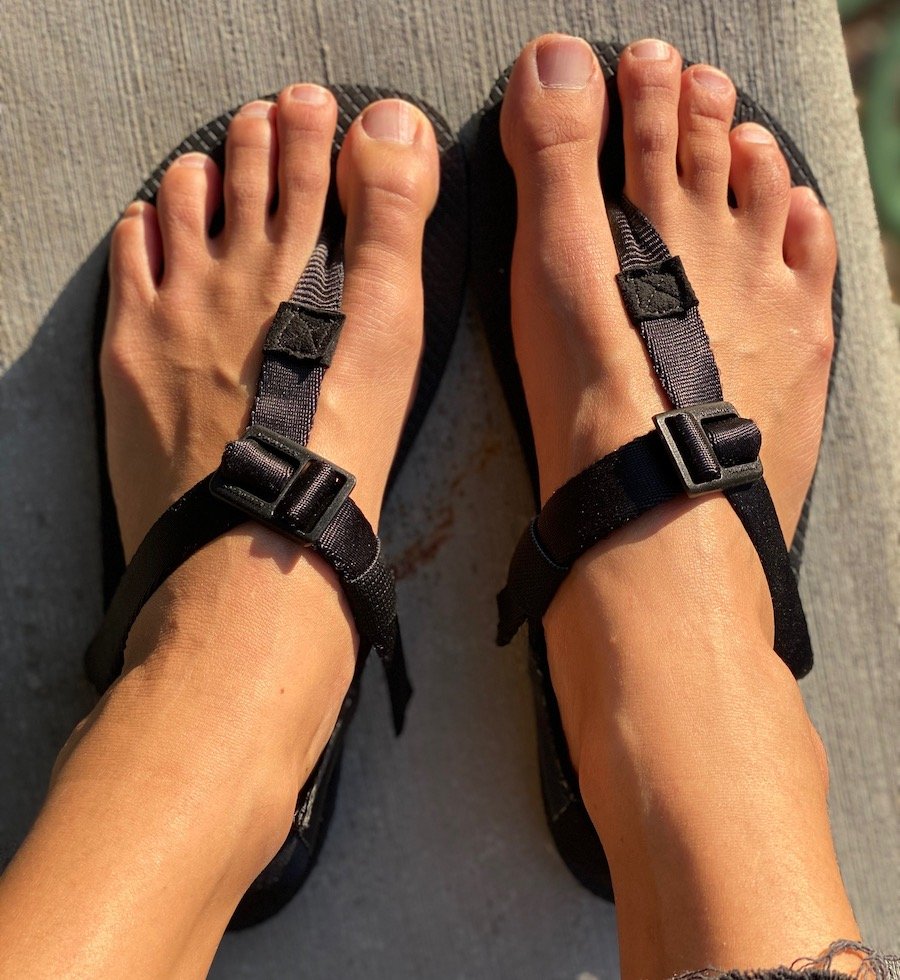 $54 after coupon | Vegan | Unisex Sizes 4-14 | Ships from USA
Use code ANYASREVIEWS2023 for 10% off.
Shamma Sandals is my favorite all purpose barefoot sandal brand. Most of their sandals are in the $100 price range, but the Cruzers are only $54 after my discount. They are a simple vegan sandal made on Shamma's flexible, wide soles. They don't have as much adjustability as the more expensive models, but they are great simple sandals. Use them as everyday sandals, and for hiking or running.
Read my previous Shamma Sandals reviews here
Sizing & Fit Type:
True to size
Good for wide & extra wide feet
Good for all volumes
---
Everleigh Meadow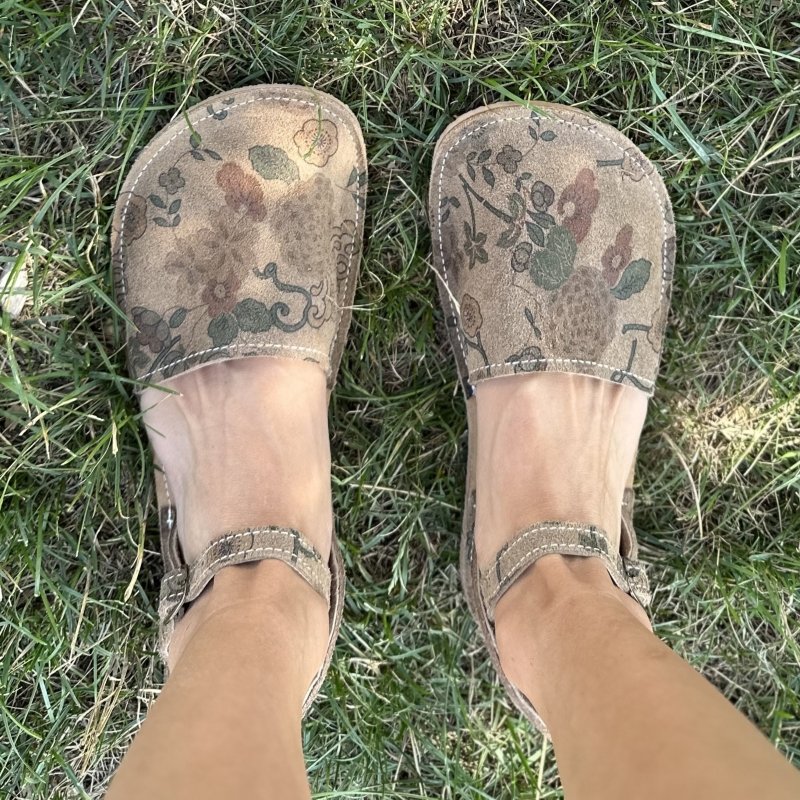 $95 | Leather | Sizes US Women's 6-11 | Ships from USA
Use code ANYASREVIEWS for 10% off
Everleigh Meadow is a small shop that hand makes shoes for kiddos and adults. Their shoes have become very popular among wide-footed ladies because they are cheap and cute!
These flats and sandals are very soft and flexible, and you'd be able to resole them if the sole wears out. They're a great affordable find! The leather is a bit thin which makes them really comfy to wear, but I wouldn't go out hiking in them.
Note that these are final sale! So definitely measure your feet and use the size chart.
Read my Everleigh Meadow review here.
Sizing & Fit Type:
True to size
Good for all widths (there are 3 width options with detailed size charts)
Good for all foot volumes (because she can customize this)
You can choose from Standard, Medium or Wide – I have Medium width and they are pretty wide as is, so I would only choose Wide if you have extra wide feet. You can also have the front piece customized to your measurements if you put them in the notes at checkout (she has instructions for this in the product listing). If you don't put your measurements they are high volume.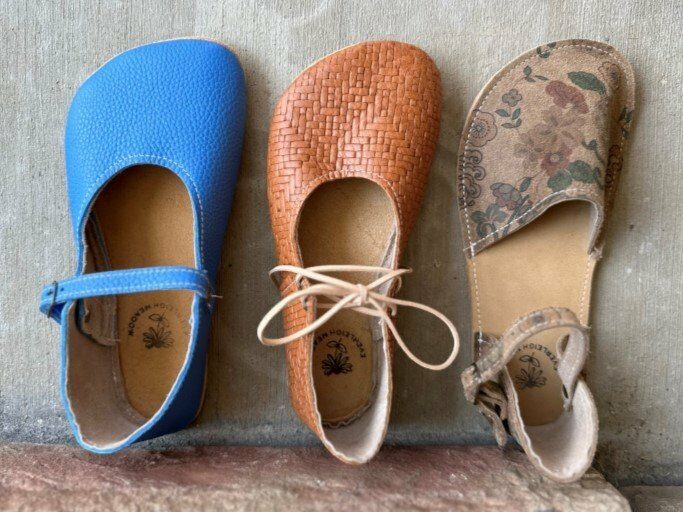 ---
FeelBarefoot Boots & Oxfords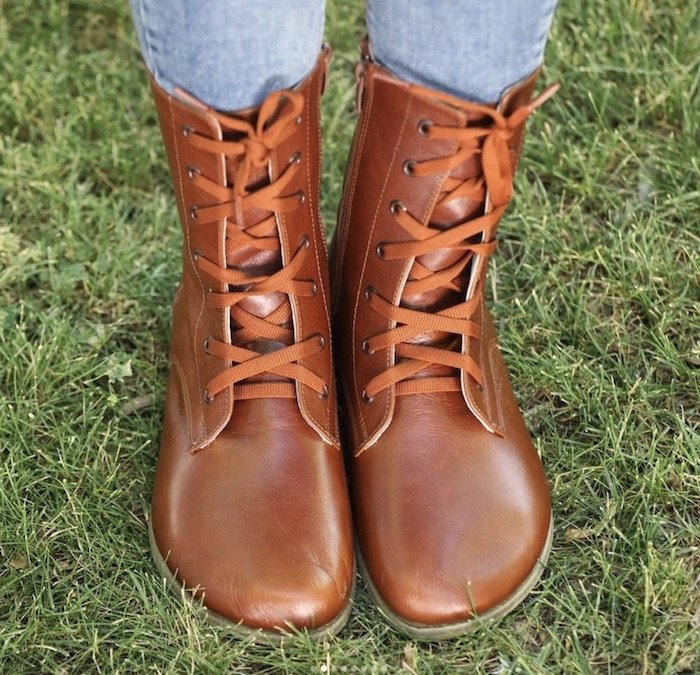 $95 – $115 after coupon | Leather | Sizes US Women's 3.5 – Men's 15 | Ships from Turkey
Use code ANYASREVIEWS35 for 35% off.
The prices on these leather shoes fluctuate, but if you're looking for dressy barefoot boots or oxfords you won't find anything cheaper. The leather is beautiful and wears well, but I have a gripe about the cheap nylon laces on the boots (apparently I have a thing about lace quality??). I'm scoping out some better cotton ones to replace them.
You can choose a fully leather sole for grounding, but I chose rubber soles for better grip. They feel a little tight and stiff at first but break in very well because of the quality leather. Each pair is handmade!
For more details on this brand, check out this FeelBarefoot Review.
Sizing & Fit Type:
Men's and Women's are THE SAME SHOES but labeled differently according to the size chart. Double check your measurements against the chart before ordering!
Runs small, I suggest sizing up one if in-between
Average to wide width
Boots are medium volume, oxfords & loafers are high volume
---
Freet Bootee & Mudee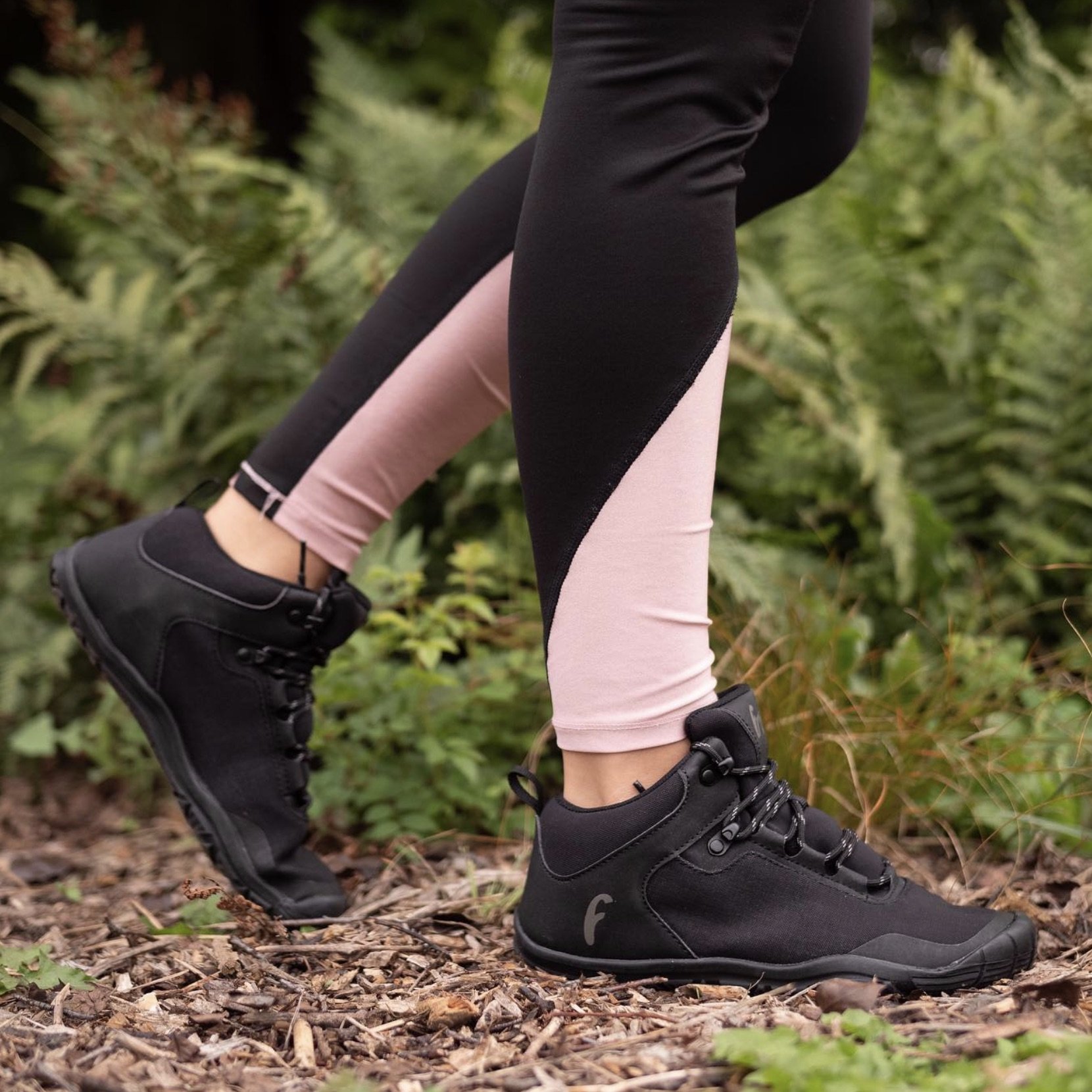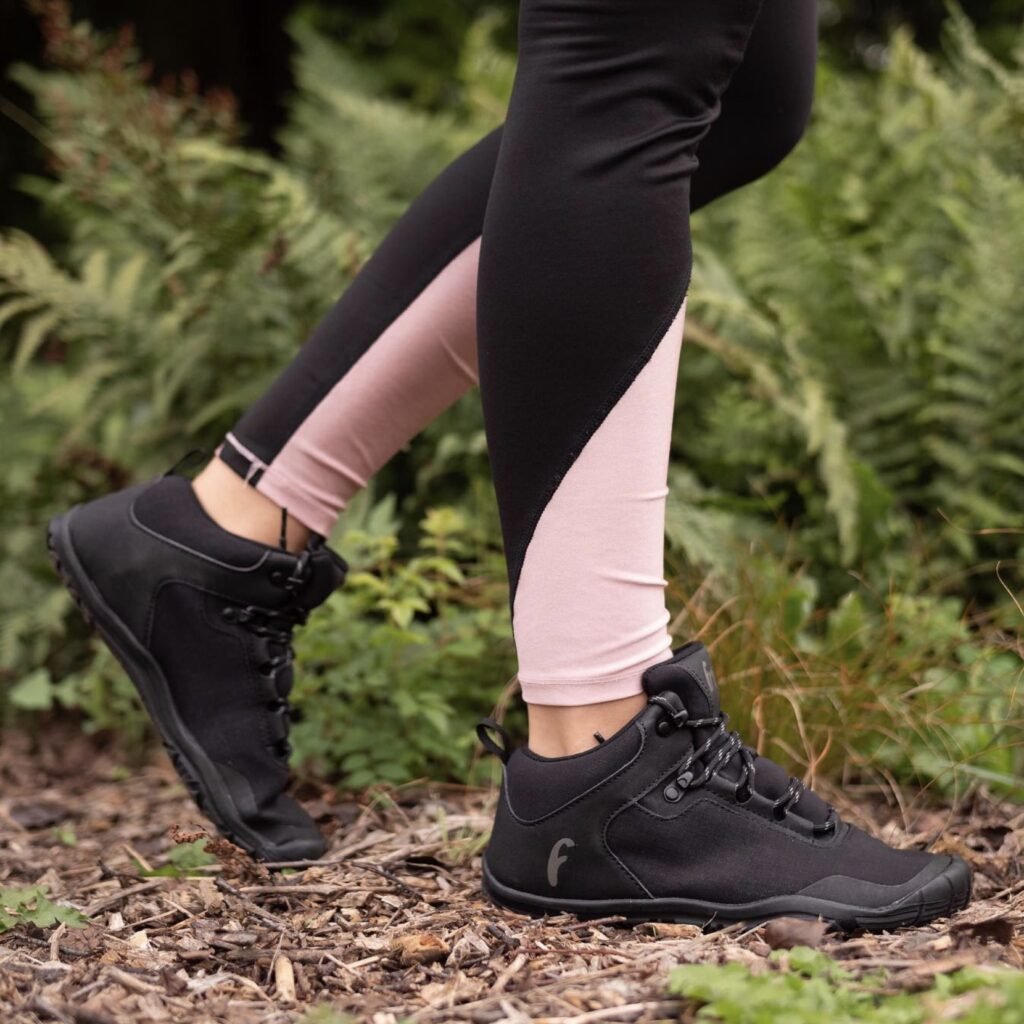 $116 – $133 after coupon | Vegan | Sizes EU 37-48 | Ships from UK
Use code AR-10 for 10% off.
Freet Barefoot makes some of the most practical and comfortable barefoot shoes for outdoor adventuring. They also have lots of vegan options and some lower priced hiking boots. These are a little more expensive if shipped to the US, but still quite a bit cheaper than other comparable barefoot hiking boots. We've had good success with Freet in our house, and if you need a sturdy outdoor boot you won't find anything cheaper.
Read my in-depth Freet Barefoot review here.
Sizing & Fit Type:
Runs small, I suggest sizing up one if in-between
Wide to extra wide
Boots are low to medium volume, but if you size up they can work for high volume feet
---
Runner Ups
Here are some additional options that are not quite as cheap as the above barefoot shoes (or they are a compromise), but can still ease the pressure on your wallet compared to more expensive alternatives.
Zeazoo Dingos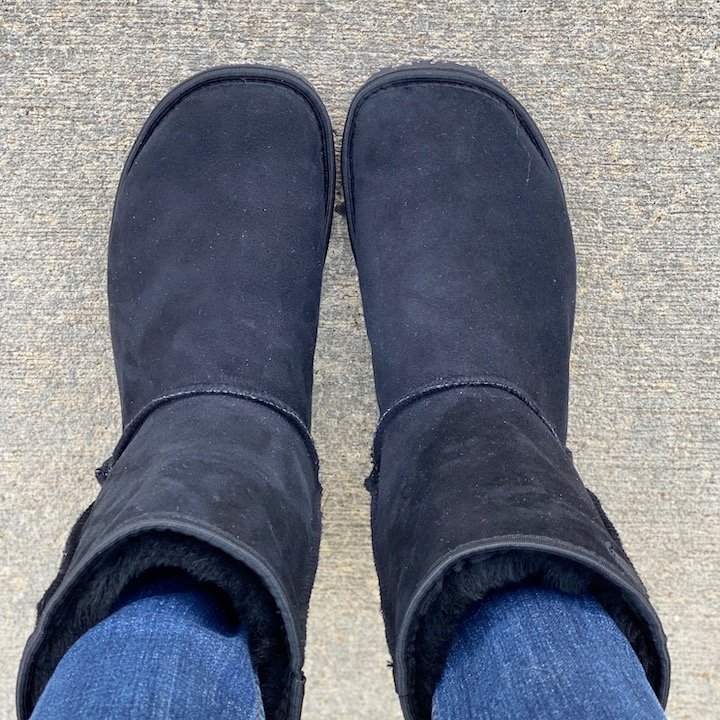 $125 | Sheepskin | Sizes EU 35-42 (+ custom sizes) | Ships from Bulgaria or US
Use code ANYASREVIEWS for 5% off directly from Zeazoo (EU).
The Dingo's are the warmest boots you'll find at this price. They are simple in design, but a fan favorite because of how irresistibly soft and warm they are. The Zeazoo Dingos are basically slippers, but you can wear them out as boots (a more comfortable Ugg boot!). And considering that it's hard to find anything practical for cold weather under $200, the price is pretty good too.
These are my regular go to all winter for early morning walks and quick errands. The Dingos are not waterproof, so I recommend treating them to prevent leather damage in the winter. I love them so much I decided to sell them at Anya's Shop a few years back – they were the first model we ever carried! Read my Zeazoo Dingo Review for more info.
Sizing & Fit Type:
Runs big
Good for wide feet
Medium to high volume
---
Asgard Rain Boot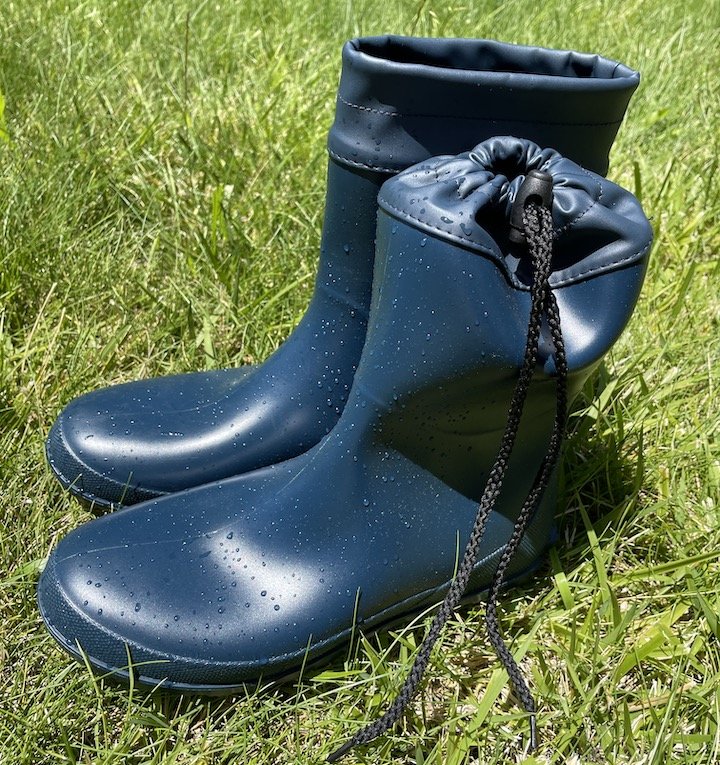 $40 | Vegan | 6.5mm Sole | Sizes US Women's 6-10.5
The Asgard Packable Rain Boot is only $40, and has a light flexible sole. It comes in a mid calf and a knee high length, and they are really great rubber wellies for the price! Some of them come with an insole that has a heel lift and others come with a zero drop insole (still haven't figure out which, seems to be random). Be prepared to swap the insole out either way.
The rubber is thin and flexible, so it can expand with your foot to some extent. But they have a mildly tapered toe box so if you have wide, square feet they likely will feel squishy.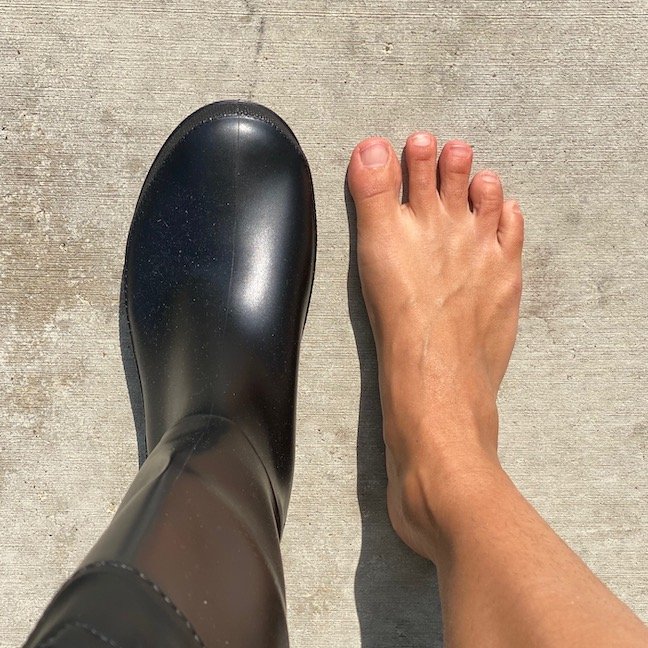 Sizing & Fit Type:
True to Size
Average Width
Straight Cut
High Volume
Because these are quite high volume, you might want to have some leg warmers on hand to fill in any extra space without sacrificing toe room.
---
Earth Runners Sandals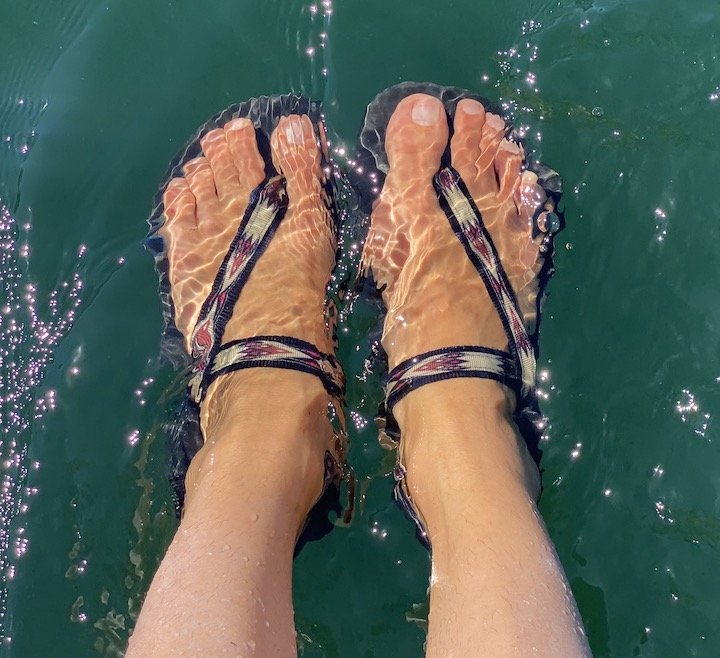 $62 after coupon | Vegan | Sizes US Women's 6 – Men's 14 | Ships from USA
Use code ANYA10 for 10% off.
Earth Runners are one of the most versatile barefoot sandal brands – they look stylish and can be worn with casual or even slightly dressy outfits, but they also function for hiking, running, and water activities.
They're a little more expensive than the other sandals listed in this article, but because they are a one-and-done type of sandal I had to include them. The Primal Lifestyle model has the thinnest sole and is the cheapest. The straps are durable and some people complain about it being rough between the toes – if you're worried about that I would choose Cloud, Carbon, or Canyon Clay – those colors are much softer on the skin.
Sizing & Fit Type:
True to size
Good for average to wide feet
Fan shaped, but works for straight feet as well
Works for all foot volumes
---
PaperKrane Boots
$115 USD | Leather | Sizes up to EU 42 | Ships from AU or US
Use code ANYASREVIEWS to get 10% off!
This Australian brand (prices on their site shown in AUD) makes the funkiest barefoot shoes in existence, and they've recently expanded into adult boots. At about $115 USD, they are one of the cheaper barefoot boot options. The biggest difficulty is that availability changes often and they don't get restocked super frequently, so sometimes you might not be able to find them.
Sizing & Fit Type:
True to size in the chelsea boots, and slightly small in the Snugg boots because of the lining
Best for average to narrow feet
Medium to high volume
---
Affordable Barefoot Shoes in the EU
In the EU? While some of the shoes listed above will still be cost effective for you, here are a few more options to check out.
Wherever you are located, you can use the Barefoot Shoe Finder quiz to find brands in your area, or the Brands by Region list!
Conclusion
Even if you have a limited amount of money to spend on shoes, you can still find options that are good for your feet! This best affordable barefoot shoes list is your guide to get started.