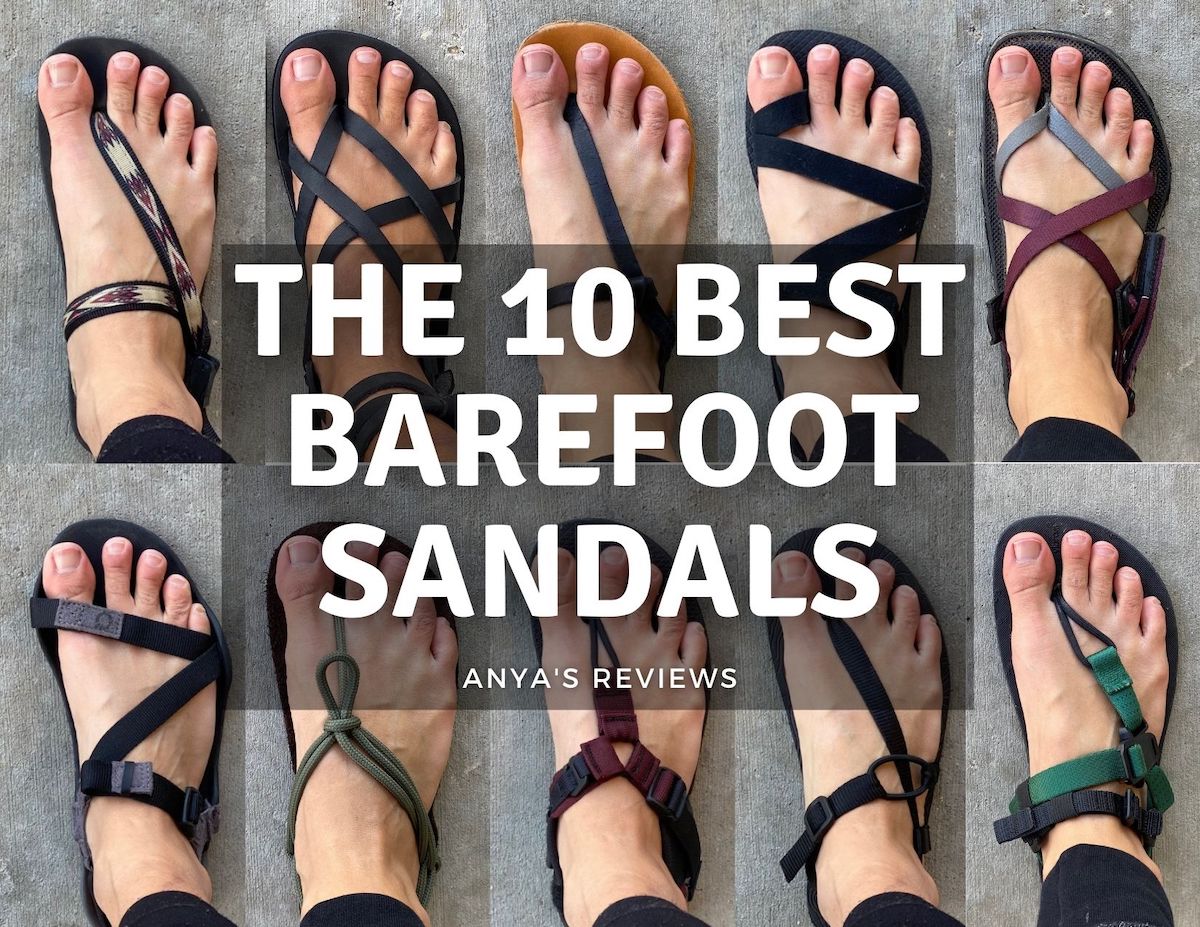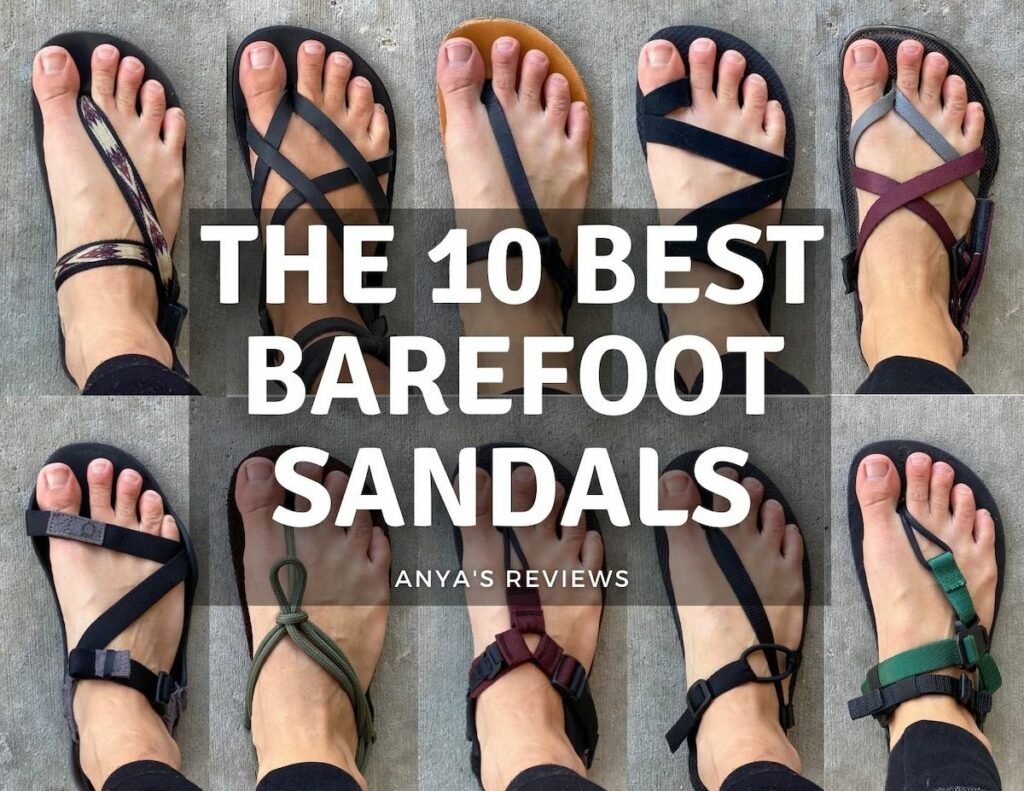 Barefoot sandals are incredibly versatile – they can be used for walking, hiking, running, even water activities – all while letting your feet move naturally. In this article I'm sharing the all time 10 best barefoot sandal brands that can take you anywhere.
This is based off my personal experience reviewing hundreds of barefoot shoes and brands. I hope it helps you find your perfect barefoot sandals!
Why I Wear Barefoot Sandals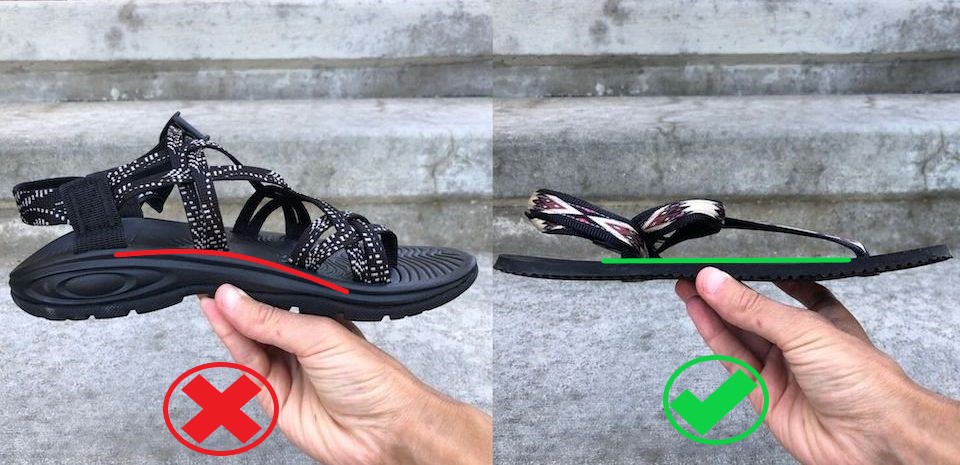 I wear barefoot sandals to preserve my long term foot health and for immediate comfort. They are unique from most sandals you find in the store because they are:
Totally Flat (not even a tiny heel)
Thin & Flexible
Foot Shaped
The adventure sandals I used to wear were often thick with hefty arch support. But I've since learned that minimalist sandals promote strength and mobility more than those other sandals. And strong and mobile feet support a pain free body!
Learn more about barefoot shoes and how to transition to them here.
This list focuses on my favorite unisex barefoot sandals for walking, hiking, running, and water activities. If you are looking for stylish women's sandals or a full list of options (including kids & no toe post sandals), check out my other barefoot sandal resources below.
Psst! I use the terms "minimalist" and "barefoot" interchangeably in this article.
How To Pick A Size in Barefoot Sandals
Everyone has unique preferences for how they want their barefoot sandals to fit, but here are a few guidelines to make it easier:
In general, sandals do not need as much extra length in front as close-toed shoes.
I often wear sandals that are about .5cm – 1cm longer than my foot, because when the sandal is open my toes can come up close to the edge without affecting their mobility. In fact, when a sandal is too long I often end up snagging the front of it on things.
Learn more about how to measure your feet and use a size chart here!
After selecting the right size, the biggest factor in whether a barefoot sandal fits is if the straps are secure enough to hold my foot in place. I also pay attention to where straps cross over the foot, so I can avoid my sensitive areas. Depending on your particular foot shape or preferences, there might be certain things you also like to avoid that will vary from person to person. One of the best things you can do when choosing a size is get to know your own feet!
The 10 Best Barefoot Sandals
Below are my top picks for the all time best barefoot sandals you can do everything in. I prioritized comfort, functionality, and barefoot features in this list. Price, materials, and stack height are listed under each brand in case you are looking specifically for Vegan or Affordable barefoot sandals, or a certain thickness (some are ultra thin, others are more cushioned).
Also note that there are some really amazing barefoot sandals available in Europe and elsewhere that I left off because they don't ship worldwide. Check out the Barefoot Shoe Finder for even more sandal options that ship to your region of the world.
Shamma Sandals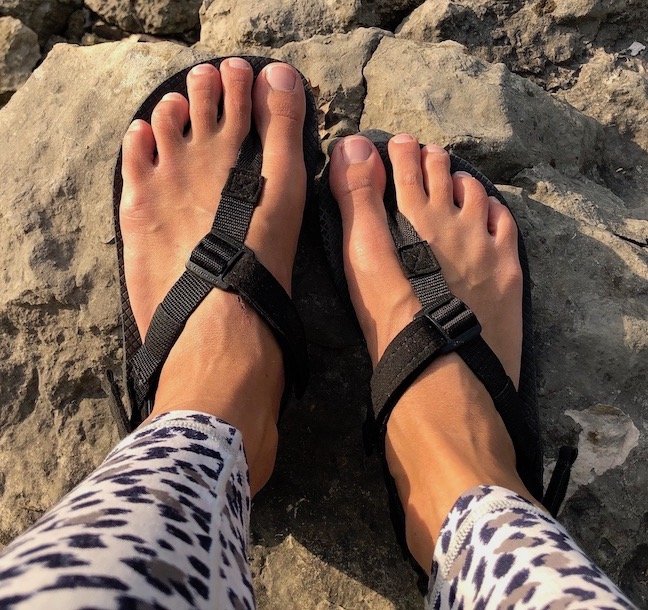 Shamma Sandals | Vegan or Leather | $45 – $125 | Sizes US Women's 5 – Men's 14 | 6 – 15mm Stack Height | Ships from US
Some custom options available
Get 10% off your purchase with code ANYASREVIEWS2023
What I Love About Them: Hands down the best barefoot sandals out there, Shamma Sandals are everything I could ever want. They come in a range of sole thicknesses from extremely minimal (6mm) to fairly thick (15mm). And yet they are all flexible and light no matter the thickness.
They're quite strappy, so I don't wear these for looking chic (except for the Trailstar, those are cute), but for activity they're perfect. I bring my Warriors with me on most trips because they never fail – in fact, I love them so much we started carrying them at Anya's Shop!
You can learn more about Shamma Sandals in my previous reviews.
Sizing & Fit Type: They have a wide forefoot and are great for extra wide feet. Each strap is easily adjusted, and they fit securely both on low and high volume feet. The secure fit also makes them a good choice even for people who don't need that extra width. because they don't flop. Shamma sizing shows up in US men's sizes, so you'll want to check their size guide if you need a women's. I am a Shamma 5.5, which converts to a US women's 6.5. I typically wear a 6-6.5 (or EU 36-37) in most of my sandals, so this is true to size.
---
Earth Runners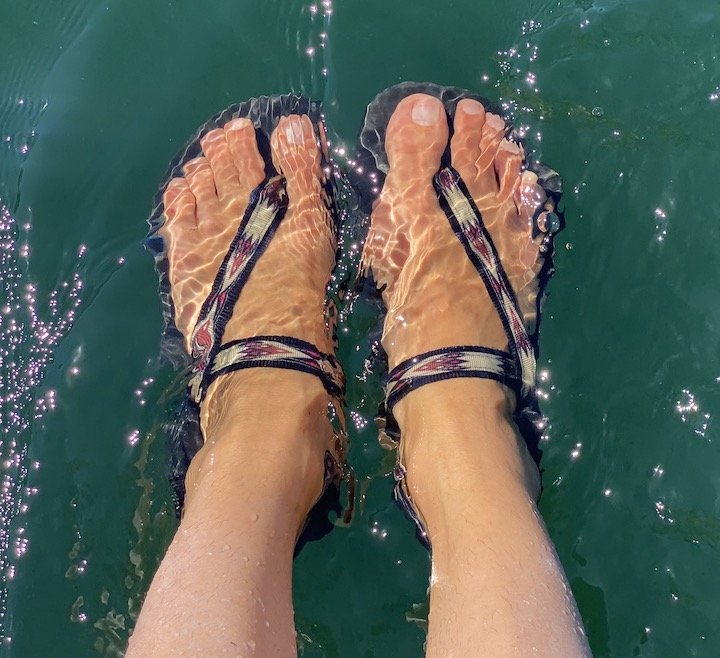 Earth Runners | Vegan | $78 – $93 | Sizes US Women's 6 – Men's 14 | 8 – 12mm Stack Height | Ships from US
Get 10% off your purchase with code ANYA10
What I Love About Them: Earth Runners are a no fuss sandal you can take anywhere. Once you get the strap adjusted to your liking, you can slip them on and off your heel. They are really secure over the arch of the foot, and your toes are left completely free to spread out. I wear mine for just about everything – they're perfect for hiking, camping, water activities, and they even look stylish with everyday outfits.
The most common complaint is that the strap can feel irritating between the toes at first. If you have sensitive skin or are worried about this, I recommend choosing the ergonomic lace options. Ergonomic laces can be purchased with the Lifestyle sandals in the colors Canyon Clay, Carbon, Sunset, and Cloud. These straps are softer and a little bit stretchy, which does compromise their sturdiness and security just a bit. But it makes them way more comfortable for everyday wear.
If you get a classic lace on the Lifestyle or Performance sandals I recommend wetting it and twisting it back and forth to help soften it, or roll the strap into a burrito shape right at the toe post so it feels thinner there. I have sensitive skin and only wear the Lifestyle models – the Performance models irritate my skin too much (and I don't notice much difference in performance).
Earth Runners come in a variety of thicknesses, which means you can find something perfect whether you want a true barefoot feel or a little more cushion. I loved the extra cushion of the Alpha (12mm) when I was new to barefoot shoes). A few years later I switched to the Primal Lifestyle sandals (8mm) and now I absolutely love the thin sole.
For more in-depth info about Earth Runners, read my review of them!
Sizing & Fit Type: Earth Runners have a moderately wide toe box shape, fit all foot volumes, and run true to size. They advise getting a close fit without much excess length, but some people go against that and order a half size up. This can make them more comfortable between the toes (because the toe post is a little farther away). I started out with a size 6, but am now going to replace them with a 6.5 because my feet have gotten bigger and it is making the toe post too uncomfortable.
---
Luna Sandals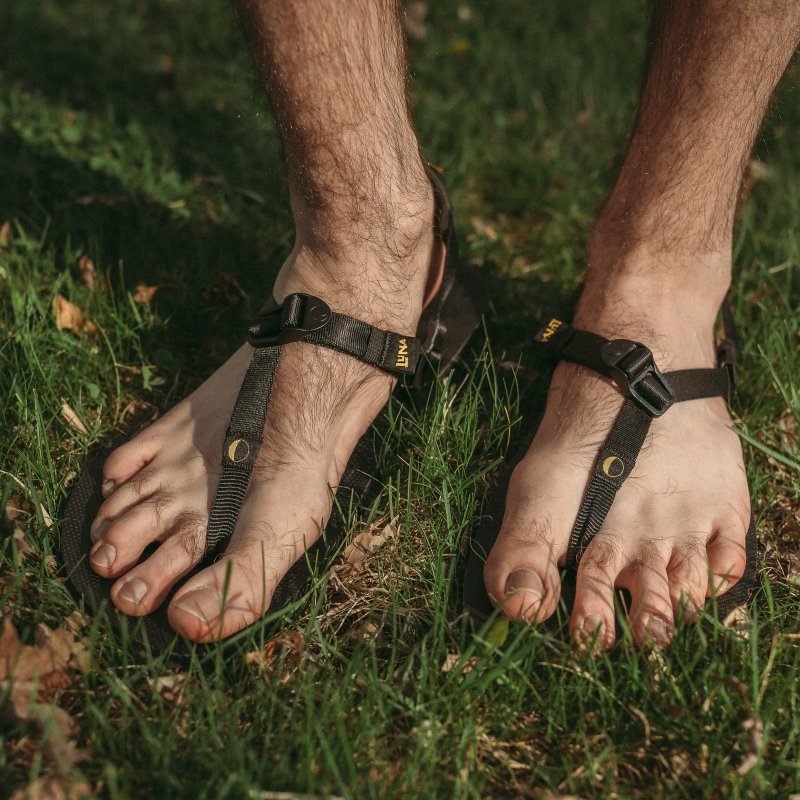 Luna Sandals | Vegan or Leather | $70 – $130 | Sizes US Women's 6 – Men's 13 | 9 – 19mm Stack Height | Ships from US or UK
You can have out-of-stock sandals made to order in their USA shop!
Use code ANYA for 10% off your purchase!
What I Love About Them: Luna Sandals have really durable outsoles that last a looong time. If you are someone who puts a lot of mileage on your shoes, something like the Luna Mono can really take you places. The soles are on the thicker side, compared to some other options here, but it translates into a longer life. The straps also are very high quality and don't fall apart. I recommend using the Tech Strap option for a secure fit.
Luna Sandals are Justin's (pictured above) top choice during warmer months. We carry the Luna Mono at Anya's Shop!
Sizing & Fit Type: Luna sandals run a little bit small compared to other barefoot sandal brands, and they are narrower in the toe box than the other options above. I'd classify them as medium width. Even still, I wear the same size in Luna as I do in Shamma and Earth Runners (a women's 6.5) – they just fit me a little smaller. You can consult their size guide for measurements and printable templates. If you use the tech strap, Luna fits both a low and high volume foot.
UK customers can order Luna Sandals from this shop.
---
Xero Shoes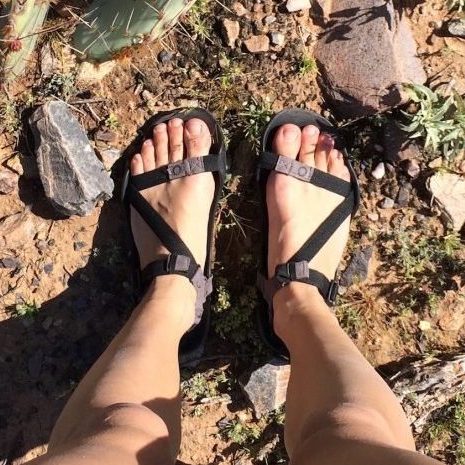 Xero Sandals | Vegan | $25 – $110 | Sizes US Women's 5 – Men's 15 | 6 – 11mm Stack Height | Ships from US or EU
If you live in Europe, you can also find Xero shoes at Mugavik Barefoot and use code ANYASREVIEWS for 5% off
What I Love About Them: Xero Shoes makes a variety of practical barefoot sandals at low prices in different strap styles and different thicknesses. So you can go for a very minimal sandals with no cushion (Z Trek), or a thicker option (Z Trail) for tougher trails, longer milage, or comfort. Xero is also one of the best places to get sandals that don't go between the toes.
You can read my in-depth Zero Z Trek review here!
One of the biggest selling points of Xero is their price point – you can get a DIY sandal kit for only $25! And ready made ones can be as low as $43. This is a great price for what you're getting – a quality barefoot sandal. Just keep in mind that extra skinny/shallow feet might have trouble getting the thong strap sandals to fit securely (I recommend the Z Trail or Z Trek for shallow feet). And they have a 5,000 mile warranty to boot, so you can expect them to last!
Sizing & Fit Type: Xero sandals come in an average width that should fit narrow to wide feet well. The women's are narrower than the men's and come in different colors, otherwise they're the same (I would love to see Xero get rid of the gendering and instead offer two widths, just saying!!)
Each model fits a little differently, but I wear a size 6 in all of them. They tend to work best for high volume feet, but low volume feet can have success in the Z Trek, Z Trail, and Jessie.
---
Peracles
Leather | $150 | Fully Custom Sizes | 5mm Stack Height | Ships from AU
Peracles closes for a couple months in the spring (or fall for Southern Hemisphere) so plan accordingly.
What I Love About Them: Peracles Footwear is a small Australian operation that custom makes every order to your exact shape and measurements. I've seen many barefoot sandals that look like this, but Peracles takes the simple leather huarache to another level. You might think the leather wouldn't be very practical but they are secure, durable, and comfortable. Definitely one of the best truly barefoot sandals I've tried.
While I don't recommend them if you need cushion, if you want a very minimalist sandal Peracles can handle just about any activity you throw at them. They are made to your shape and size, and the leather conforms to your foot quickly. They are designed for lots of mileage and because they are fully leather you can adjust and repair as needed.
Sizing & Fit Type: These are custom, so will fit any foot width and shape. Even low volume feet should have no problem adjusting the straps to be secure and comfortable.
---
Deliberate Life Designs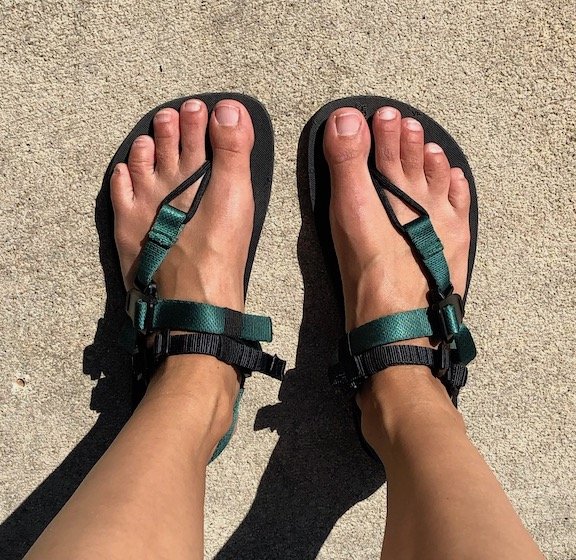 Deliberate Life Designs | Vegan | $89 – $129 | Sizes US Women's 5 – Men's 14+ | 7 – 12mm Stack Height | Ships from US
Larger sizes available as a custom order.
Get 10% off your purchase with code ANYASREVIEWS
What I Love About Them: Deliberate Life Designs (DLD) sandals are handmade to order using recycled climbing slings. They're a great brand if you have an uncommon foot type, because they come in 5 different preset shapes and 5 different outsole options. And if none of those work, you can still choose the fully custom route. Because this can be information overload, I typically recommend DLD to people who know exactly what they want in a sandal.
I love how durable Deliberate Life Design sandals are. But for how durable the straps are, they still feel comfortable on foot. I appreciate that the toe post is a thinner material between the toes – there is no discomfort there. These sandals come with an additional tech strap that I prefer to use for extra security, even though it makes them look rather bulky. I can't complain when they are both comfortable and extremely functional! They do everything the bigger barefoot sandal brands do but they also come in unique colors, shapes, and sizes.
Read my in-depth review of Deliberate Life Design Sandals here.
Sizing & Fit Type: My DLD sandals are custom, and so they fit my foot type perfectly. I have not tried their preset shapes, but they have printable templates for them to help you find the right one. With all the options, Deliberate Life Design barefoot sandals should work for all foot shapes, widths, and volumes.
---
Chala Sandals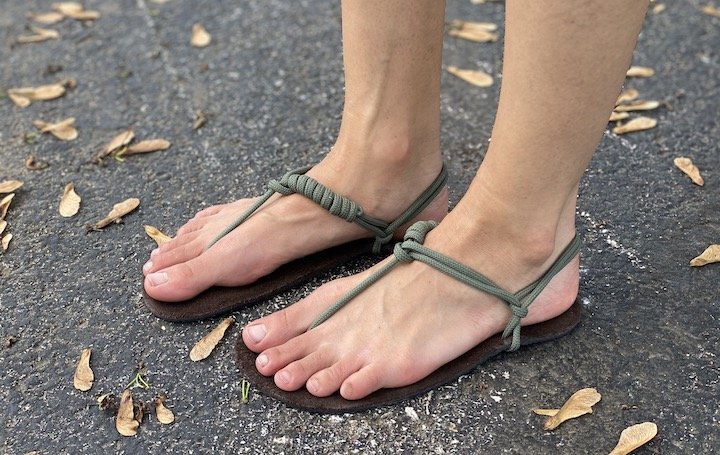 Chala Sandals | Vegan or Leather | €60 – €120 | Sizes EU 36-47+ | 3 – 8mm thick | Ships from EU
Custom sizes available
Get 5% off your purchase with code 93D5B5E9
What I Love About Them: Chala makes extremely minimal sandals that feel like going barefoot. They are also an affordable option (more so if you live in Europe), and they take up next to no space in a travel bag. And yet the materials are high quality and durable. There is a bit of a learning curve with tying Chala Classic sandals. It took me a few tries to get them secure. After that they were very comfortable and easy to slip on and off, but I prefer them for road walking and running. When hiking on uneven terrain, my foot strains against the straps and they cut into me a little bit. They are a favorite for barefoot purists who need just a teeny bit of protection.
Read my in-depth Chala review here.
Sizing & Fit Type: Chala sandals fit average to wide feet best. They are also extremely adaptable to any foot volume. The sizing is true to size, and they have a size chart with measurements to guide you.
---
Unshoes Footwear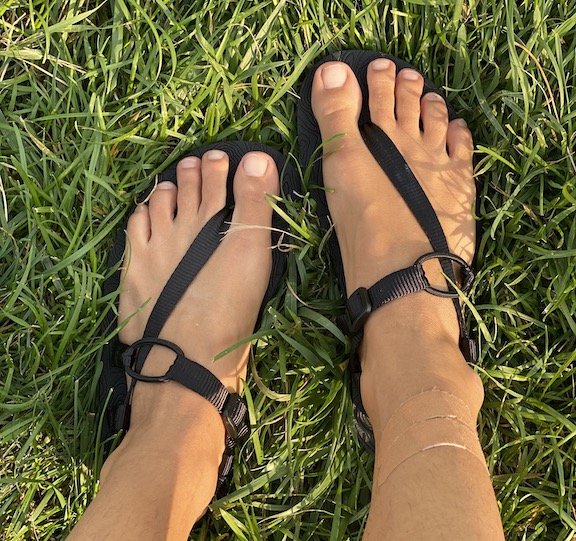 Unshoes Footwear | Vegan | $64 – $106 | Sizes US Women's 5 – Men's 13 | 8mm Stack Height | Ships from US
Customizations available
Get 10% off your purchase with code ANYA
What I Love About Them: Unshoes sandals is another brand that offers practical barefoot sandals at affordable prices. They are really easy to take on and off because of the buckles and elastic, and they can be easily worn both for everyday and sport. I have tried all Unshoes sandal models and my favorite is the Wokova Feather – it has a thin, minimal sole and the strapping fits my foot type best. They have been great pool and lakeside barefoot sandals for me!
Sizing & Fit Type: Unshoes typically work best for a higher volume foot. I have low volume feet and so I have to wear the straps tight or else my foot slides around. The Pah Tempe and Wokova are the best for low volume feet, but you might consider getting the Pah Tempe in a custom thinner strap if you have small feet (I have the regular strap and they look ginormous on my feet). They are true to size and have a wide forefoot shape. I wear a size 6 in Unshoes Sandals. You can also create a customized sandal by choosing from 6 shape templates, outsole, footbed, and toe strap placement.
---
Bedrock Sandals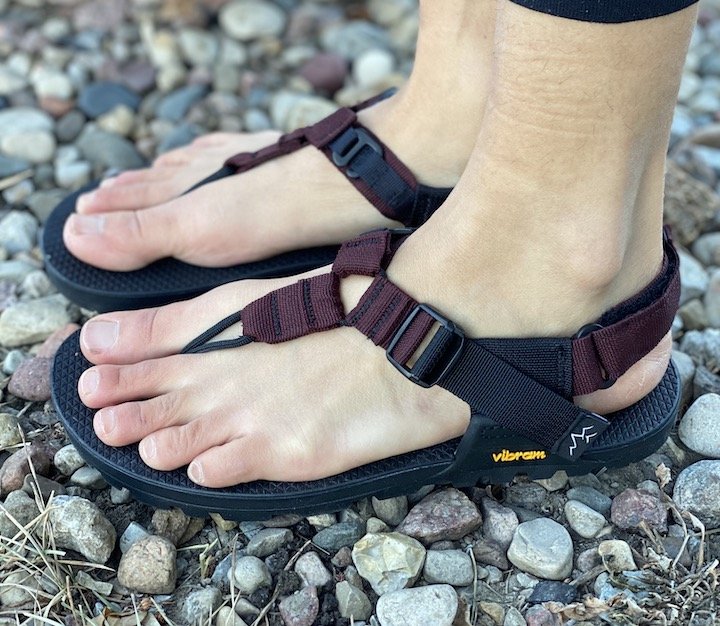 Bedrock Sandals | Vegan & Leather | $78 – $130 | Sizes | 9 – 16mm Stack Height | Ships from US
What I Love About Them: Bedrock is a phenomenal adventure sandal brand built for extreme activity. The sandals are thick, but lightweight, and designed to be very secure on your foot. They are flexible enough to bend, but there's not as much ground feel as the other barefoot sandals we've talked about here. All Bedrock sandals are zero drop. The "3D" models have a little bit of arch support, and the rest are totally flat. These are a great option for intense hiking/rafting, or if you just want a little more shoe between you and the ground. Mine are the Cairn Adventure model.
You can find a really useful Comparison Guide to the different Bedrock models here.
Sizing & Fit Type: Bedrock Sandals run a little bit small and I wear a size 7 in them. They also fit a slightly narrower foot type, so my toes come up to the very edges. The secure strapping makes them adaptable to both low and high volume feet.
---
Laboo Leather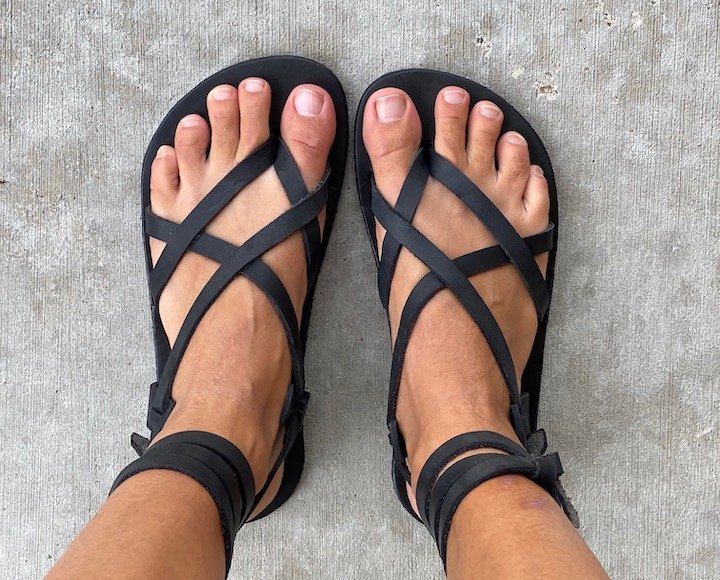 Laboo Leather | Leather | $89 – $105 | Sizes EU 35 – 45 | 6.5mm Stack Height | Ships from EU & US
What I Love About Them: These barefoot sandals from Laboo Leather are special to me because I helped design the shape of them! Botond, owner of Laboo, was originally making sandals with a more tapered foot shape and a small heel. I loved his work, so I asked for a custom pair (shown above) with a wider foot shape and zero drop sole. The relationship blossomed and these barefoot sandals are now available in his Etsy shop (EU) and in my own Anya's Shop (US).
These sandals are fully leather, so I must admit that I don't like taking them in water. But they fit securely enough that they can be used for hiking, walking, and running. They also can be worn as a fashion sandal. The straps are all fully adjustable (you can cut off the ankle wrap if you don't like it), and they are a dream to wear.
Sizing & Fit Type: Laboo Leather sandals run a little small. I wear an EU 37 in them. They have a wide forefoot shape, and should fit both high and low volume feet. Some people with narrow ankles reported that it's tricky to get the back tie secure enough – otherwise these are a home run for most foot types.
---
Runner Up – Panta Sandals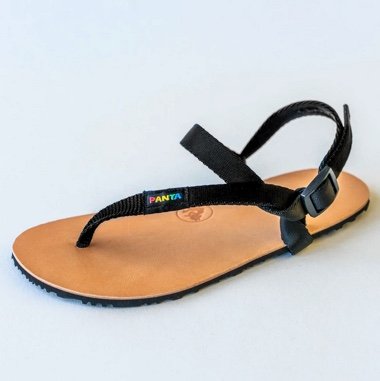 Panta Sandals | Vegan or Leather | €79 – 89 | Sizes EU 37 – 47+ | Ships from EU
Panta is the only one on this list that doesn't ship worldwide, but I wanted to include them for my European readers. They are a great alternative to Earth Runners if those are too expensive to ship to your location. These barefoot sandals are light, comfortable, and can be worn both as a lifestyle sandal or for athletic use.
---
Covered-Toe Barefoot Sandals
Looking for a barefoot shoe/sandal hybrid? The following are similar to a Keen style, but with a barefoot sole. They can be used for more protection while hiking or in water activities. *Some are more shoe than sandal, but I included them anyways!*
---
---
---
---
---
---
---
---
---
Barefoot Sandals Without A Toe Post
Many of the barefoot running and hiking sandals have a toe post or thong strap. If you're someone who doesn't tolerate that, check out these options of barefoot sandals that do not go between the toes!
These are a few of our favorites, but for even more options head to the Complete Sandals List.
---
---
---
---
---
---
The Best Barefoot Sandals Review Conclusion!
As you can see, there is a practical barefoot sandal for just about any activity. If you still have lingering questions (like barefoot sandals for kids), make sure you check out this Complete List of Barefoot Sandals, or you can make use of the quiz & filters on the Barefoot Shoe Finder for even more options!