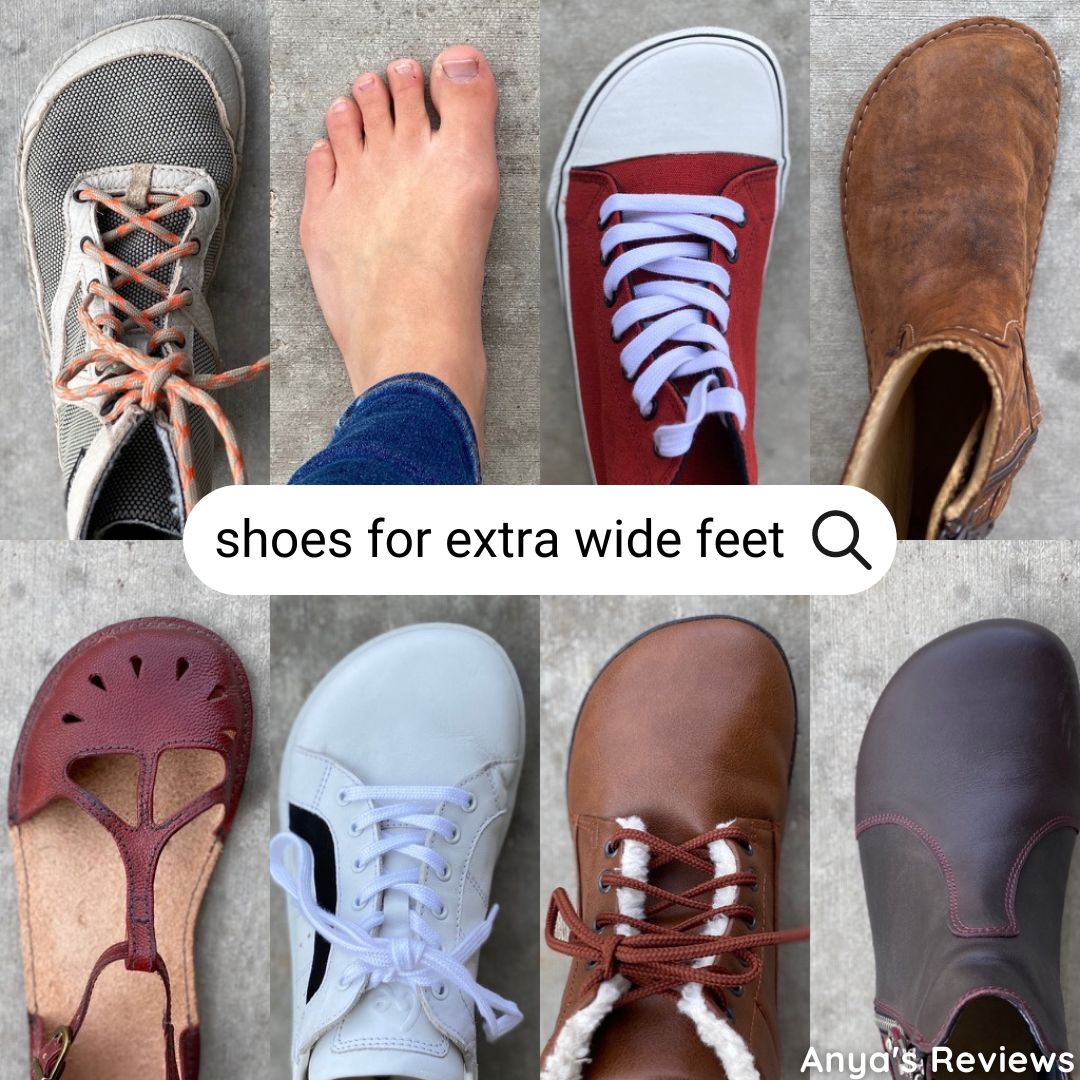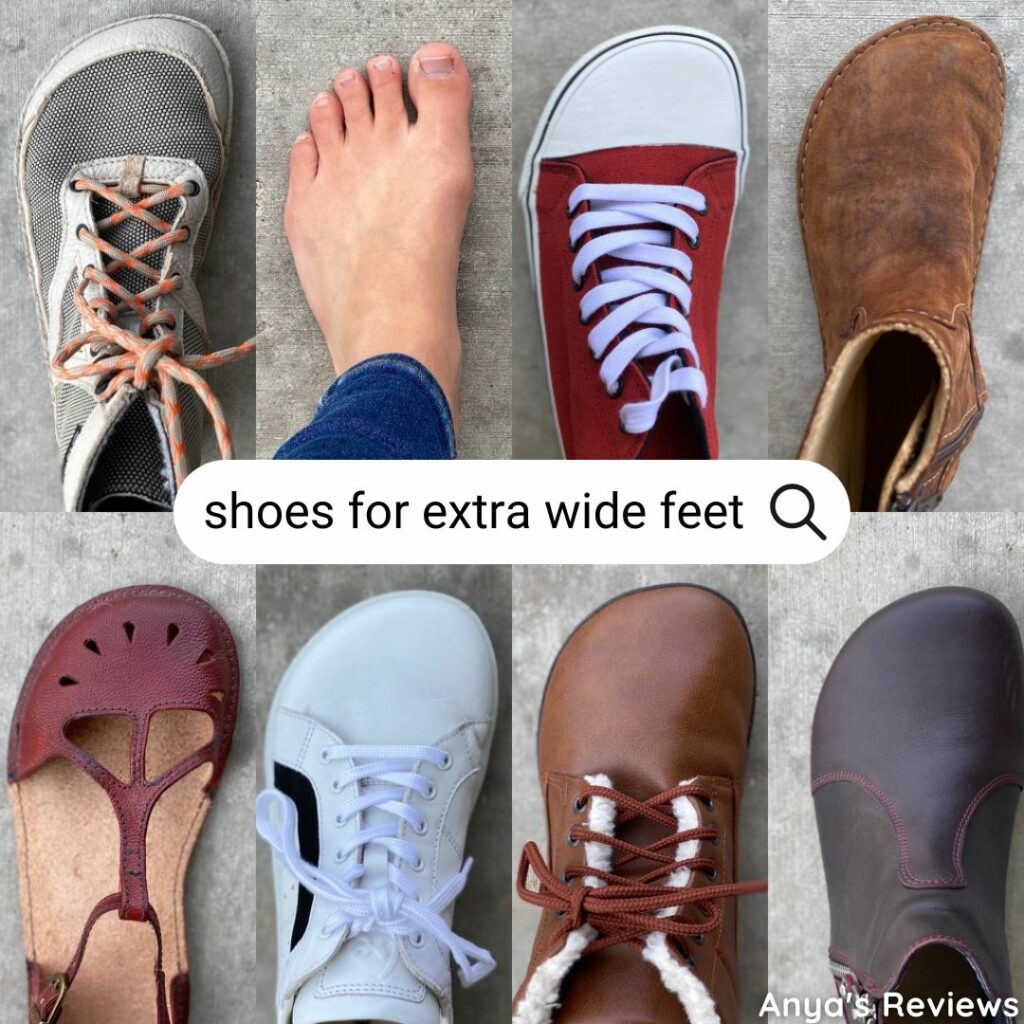 Got wide feet? Struggling to find shoes that fit? Well I've got news for you – Most shoes available today, even the "wide" ones, are made with a distorted view of width. Your feet aren't the problem, it's the shoes that suck!
In this article we're setting the record straight on width in shoes and sharing the best options that are actually good for wide feet. You and your feet will be forever changed.
Debunking the Wide Shoe Myth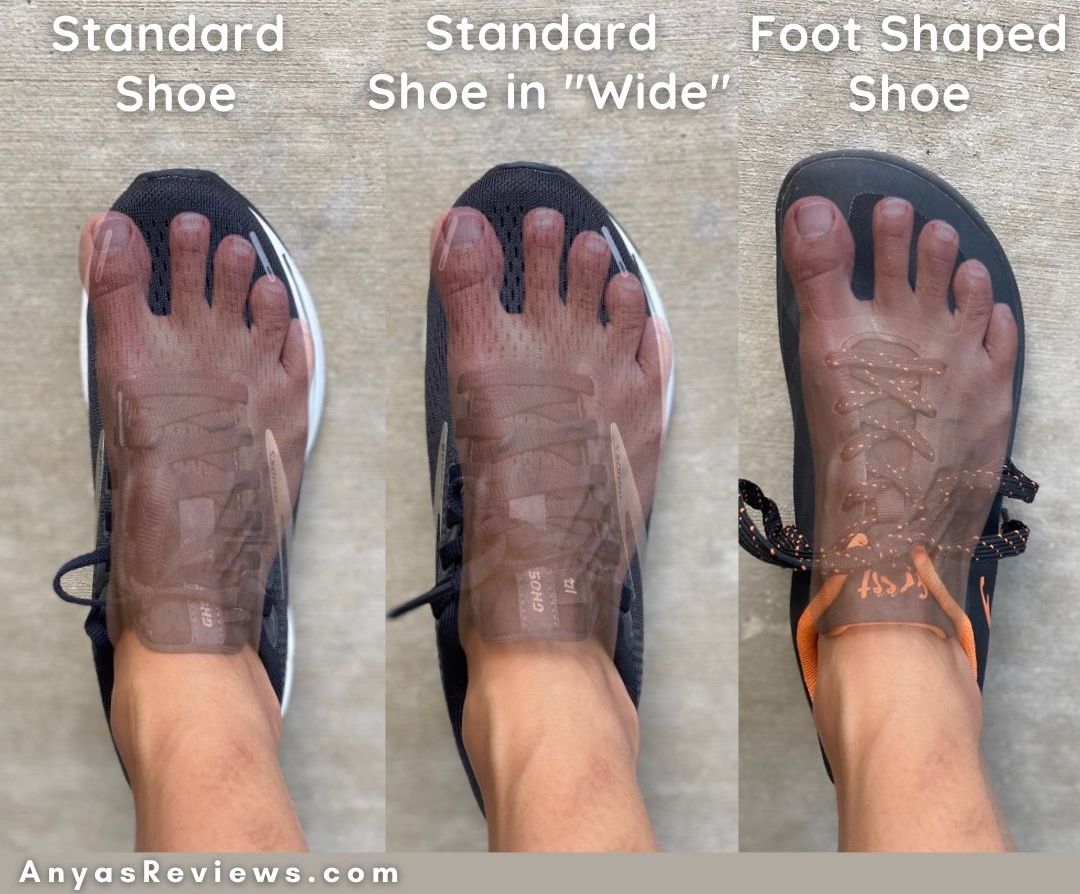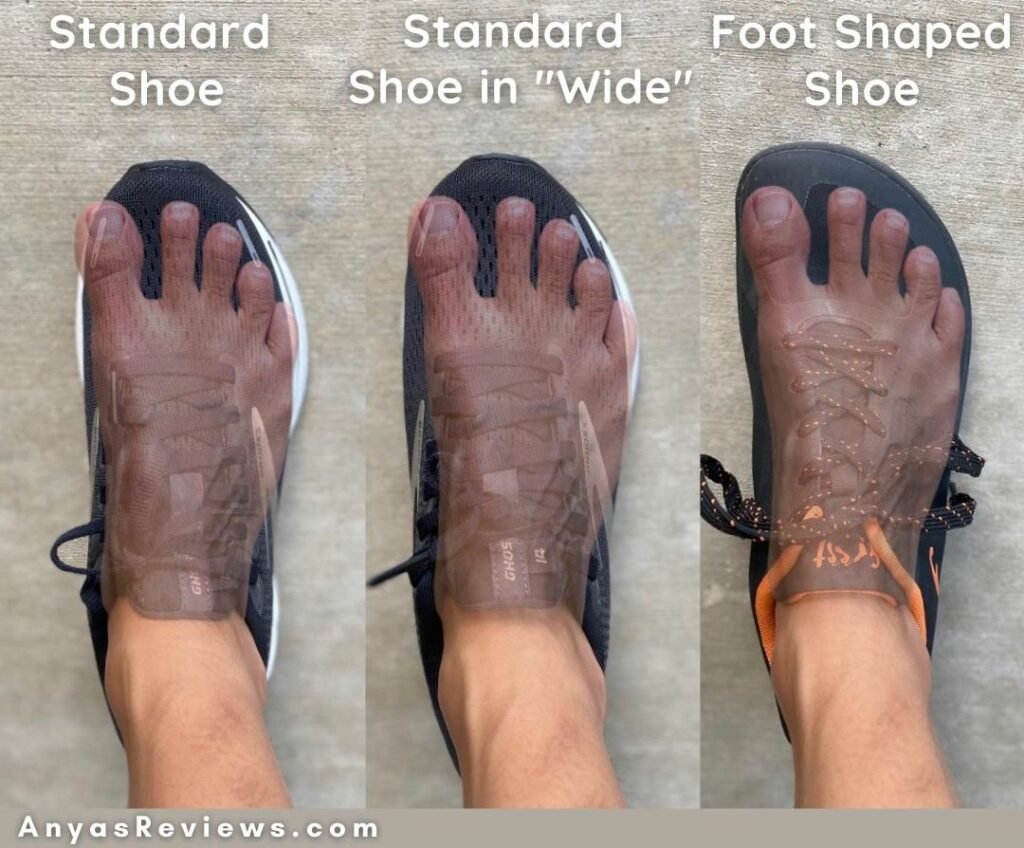 There are a variety of shoes out there that offer "wide" as an option for people who don't fit into "regular" shoes. And indeed they are in some ways wider than their standard counterparts, but not throughout the entire shoe. Suspiciously, the toe box remains pointy in these so called wide shoes.
This leaves me with plenty of space at the ball of my foot and at the heel, but my toes are still pinched together, as if toes just don't count when it comes to width. But here's the thing – they really do count, and there's a good chance the lack of toe space is why most shoes feel horribly uncomfortable for you.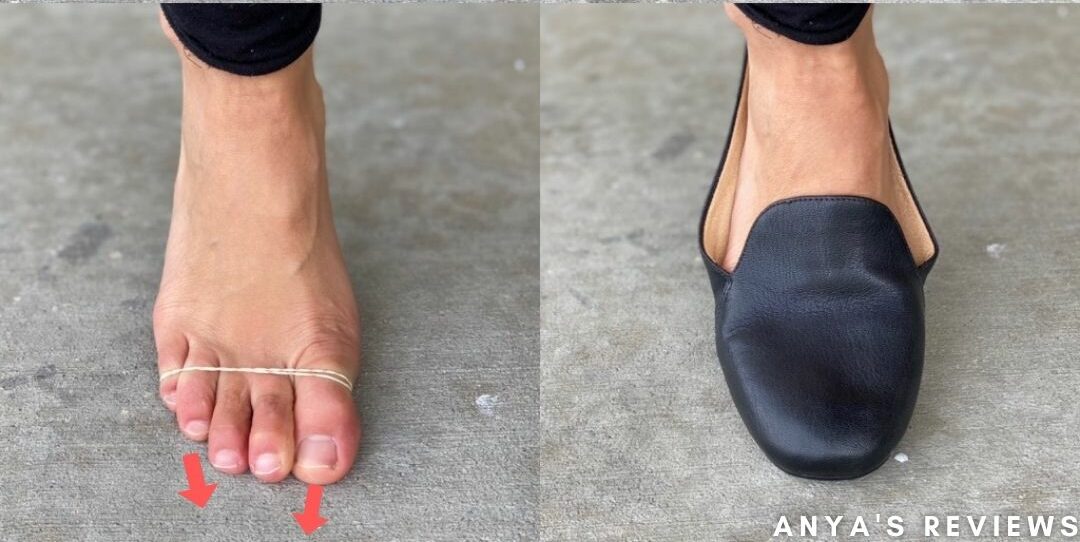 Foot Shaped Shoes Are Best For Wide Feet
"Wide" is subjective and open-ended – you can add width to any part of a shoe while other parts remain narrow.
By contrast, "Foot Shaped" suggests the shoe matches a natural anatomical shape that is asymmetrical and leaves space for all the toes. The width in a foot shaped shoe is distributed according to human anatomy.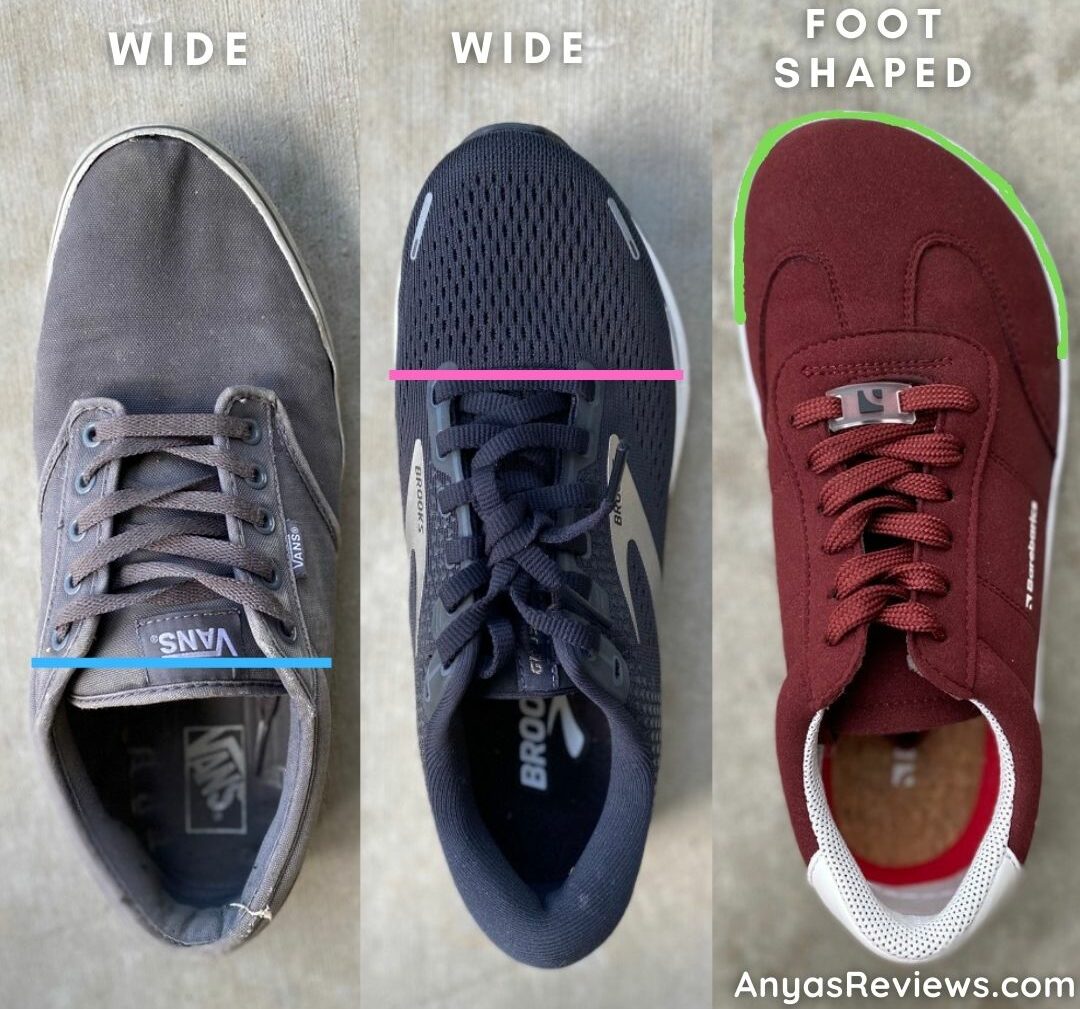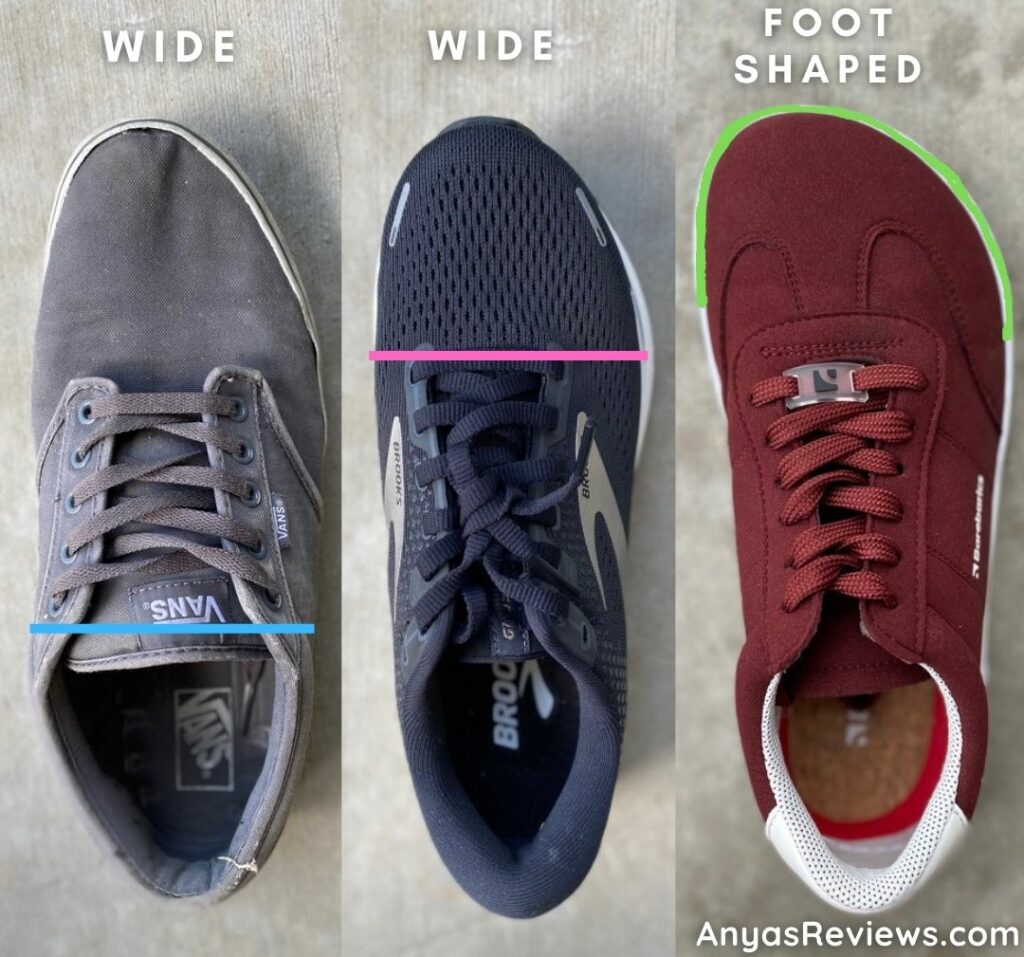 This is why you should stop looking at shoes marketed as wide, and instead look for foot shaped shoes.
To be sure, not all feet are shaped the same (in fact I wrote a whole article about this) but the majority of the time an unadulterated foot will be widest at the toes. We see it in young children who haven't started wearing shoes yet, in unshod populations, and I also see it all the time in people who switch to foot shaped shoes and start taking care of their feet. Yes, your feet can change shape depending on what you do with them!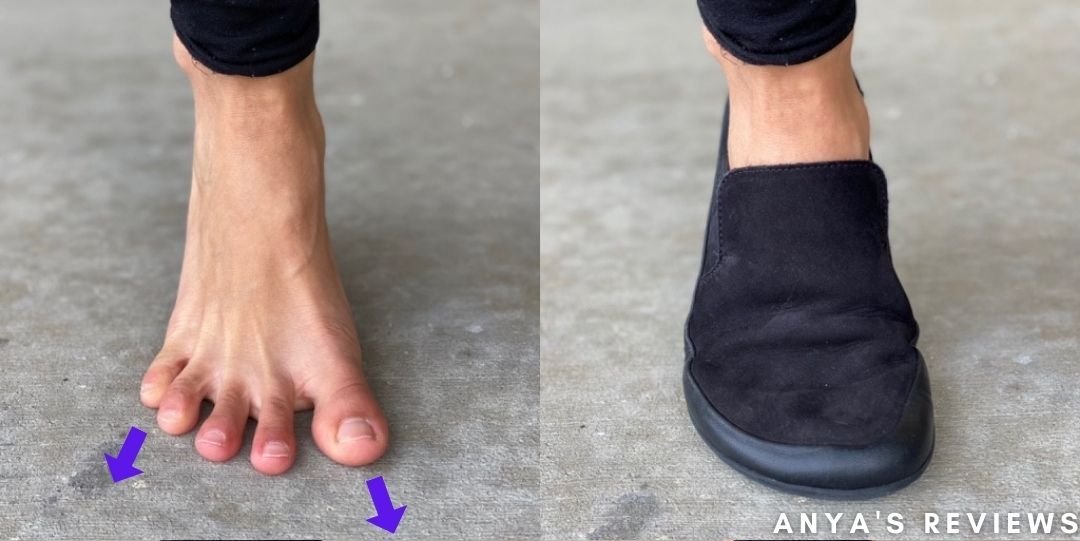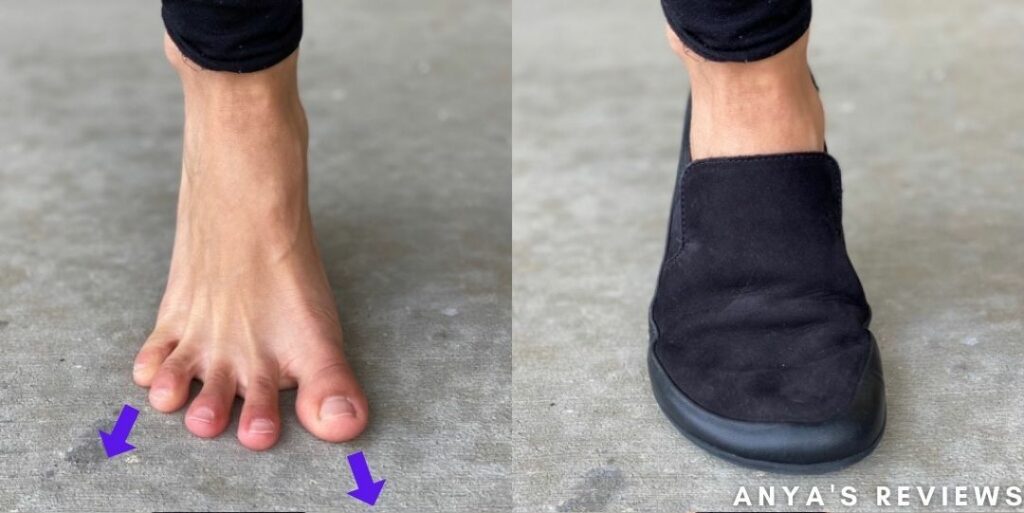 So it makes a lot of sense that putting a foot that is widest at the toes into a shoe that is narrowest at the toes would be quite uncomfortable. And it gets worse: Evidence increasingly points to footwear as the cause for the bunion epidemic that rages in industrialized cultures. And yet few people question the pointy shape of most shoes.
It's time for a new paradigm when it comes to shoes. The best shoes for wide feet are the ones that match the shape of those feet!
If this is a new concept for you and you want to dig deeper into shoes that respect the natural functioning of the foot, take a segue on over to my article on the Benefits of Barefoot Shoes that covers everything you need to know.
Where Do You Need Your Width?
Now that we've established that conventional shoes are not serving the needs of our feet, let's move on to another important width distinction.
To determine which are the best wide shoes for you, take a look at your feet. Where exactly do you need your width?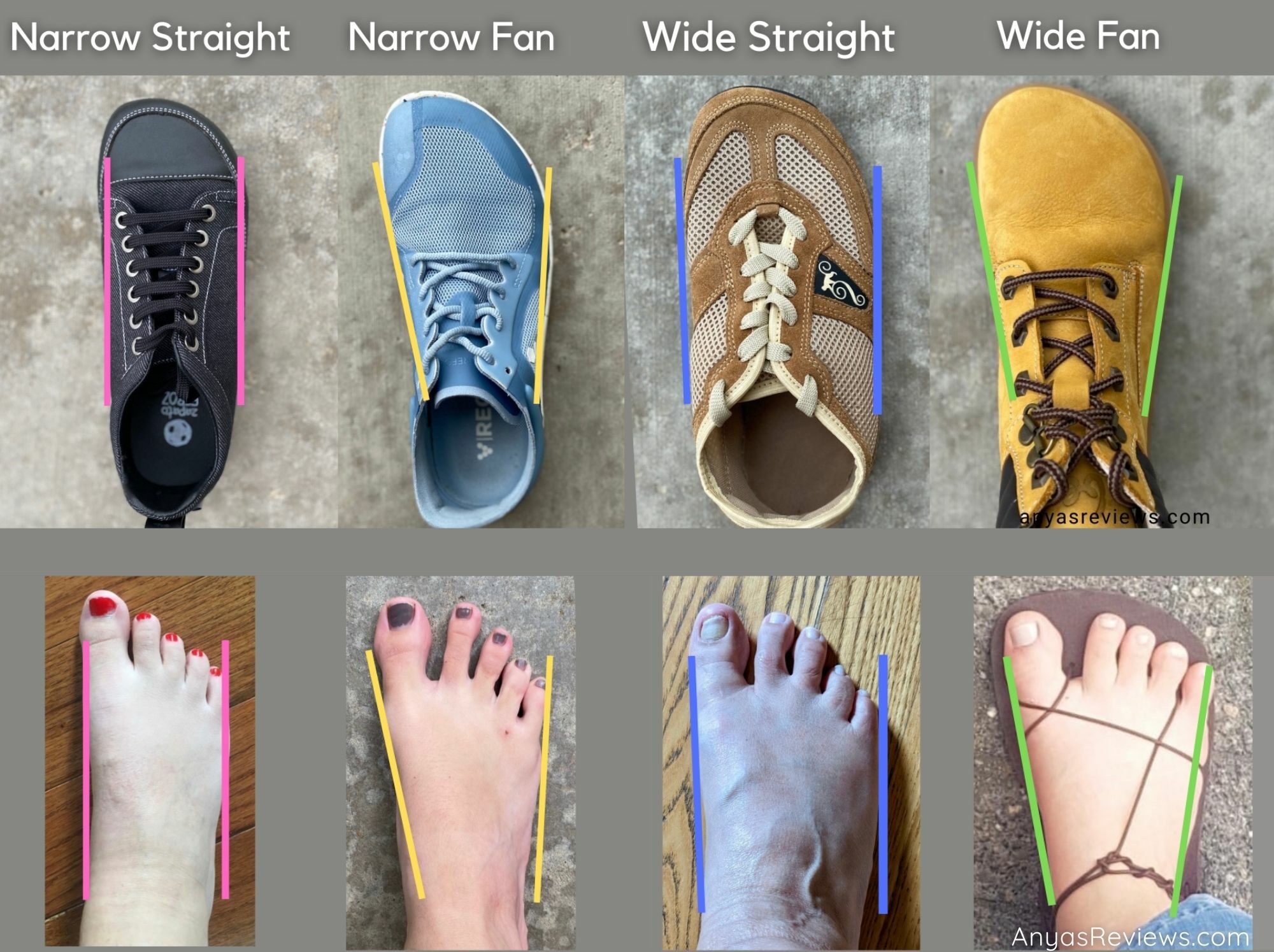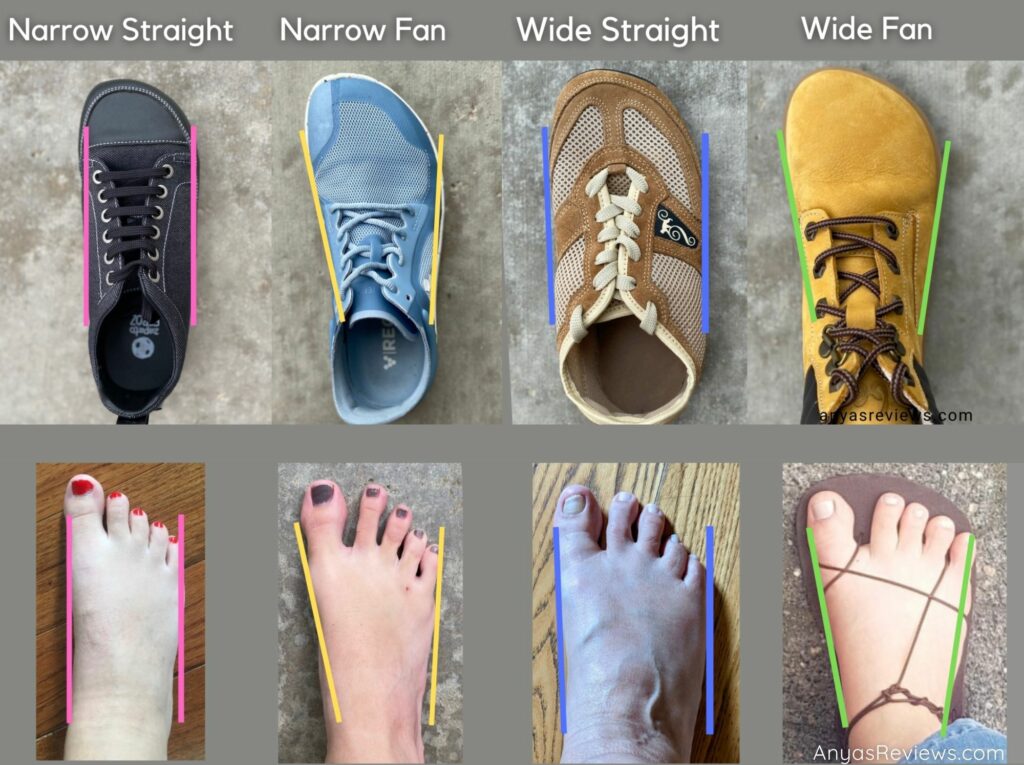 Some people have straight feet that don't taper in significantly at the arch area. Others have fan shaped feet with a big width difference between their toes and their heel. You can see how what would be good for one would be uncomfortable for the other!
Of course most people will fall somewhere in between these extremes, and that's perfectly fine. Now you have the language to define your shoe fit woes, and that will make it easier to intentionally select the wide shoes most likely to work for you!
The shape and contour of your toes can also play a role in how shoes fit. Here we're just focusing on width, but you can read this article to dig deeper on foot shapes and to find shoes for narrow and average width feet!
What If My Feet Aren't Widest At The Toes?
If you've spent your whole life in tapered footwear, there is a good chance it has affected your feet (feet can change, remember? And it goes both ways). So foot shaped shoes might give you more toe space than you can actually fill! The amazing thing about the human body is that it is adaptable – give your feet space and over time there is a good chance they will fill it. Go for a shoe that fits you comfortably today with enough space for your toes to spread out. As long as the shoe fits securely without flopping, the space around your toes shouldn't be a problem.
But Are My Feet Actually Wide?
Many people come to me believing they have humongous feet, but then learn that all they need is a foot shaped shoe! Tiny, tapered shoes have really F-ed up our understanding of what's "normal". At first it can be hard to know how wide of a shoe you actually need, so expect some trial and error as you shift to this new paradigm.
To help people hone in on the right shoe for their foot, I created The Barefoot Shoe Finder. This is a searchable, filterable database of hundreds of natural footwear brands, plus a quiz to match you up to the right one. This is where to look if you don't need the extra wide shoes listed below.
The Best Shoes for Wide Feet List
If you do have truly wide feet, the following lists are for you.
To recap, the best shoes for wide feet are:
Anatomically shaped
Wide where YOU need it
Many of these shoes can cross over between both lists, just like many feet cross over into multiple categories. You will never know for sure if a shoe will fit until you try it on, so don't feel limited by these options. Use this is a stepping stone!
And here's a reminder that the following are all EXTRA WIDE foot shaped brands. For anything less wide than that, use The Barefoot Shoe Finder.
One final note before I launch into the list – if you look at any of the size charts for these brands and you might think they look too narrow by the numbers. I encourage you to read this FAQ on interpreting a size chart to learn why there's more to width than the measurement!
Shoes for Wide Fan Feet
Here are 12 of the widest shoes that fan at the toes, for fan shaped feet.
*skip to the list for Wide Straight Feet by clicking here*
Pro Tip: If you have narrow heels, you might struggle with heel slippage. These Narrow Heel Fit Hacks can help make your shoes fit better.
---
---
---
---
---
---
---
---
---
---
---
---
---
---
---
Goes Both Ways
These 8 shoe brands fit nicely in both categories – they provide ample space for fan shaped feet and the stay wide in the middle for straight feet.
Tired of scrolling? Skip to the list for Wide Straight Feet by clicking here.
---
---
---
---
---
---
---
---
---
Shoes for Wide Straight Feet
Now let's move on to the best shoes for wide straight feet. Here are 9 extra wide shoe brands that have work well for feet that are wide through the middle.
---
---
---
---
---
---
---
---
---
And don't forget custom options! There are a surprising number of custom shoemakers out there and it doesn't have to be crazy expensive. This is a great way to cut to the chase and get a perfect fitting shoe. Check out the following guide to ordering custom barefoot shoes if this interests you.
Healthy Feet Are Happy Feet
Feet are a seriously underrated part of our body. Considering that they are our one point of contact with the ground whenever we are standing, walking, or running, it makes sense that unhappy feet would affect our entire well being. Making the switch to shoes that allow your toes to spread out can pay dividends in your life.
Got super wide feet? Now you know what the best shoes for wide feet actually are.