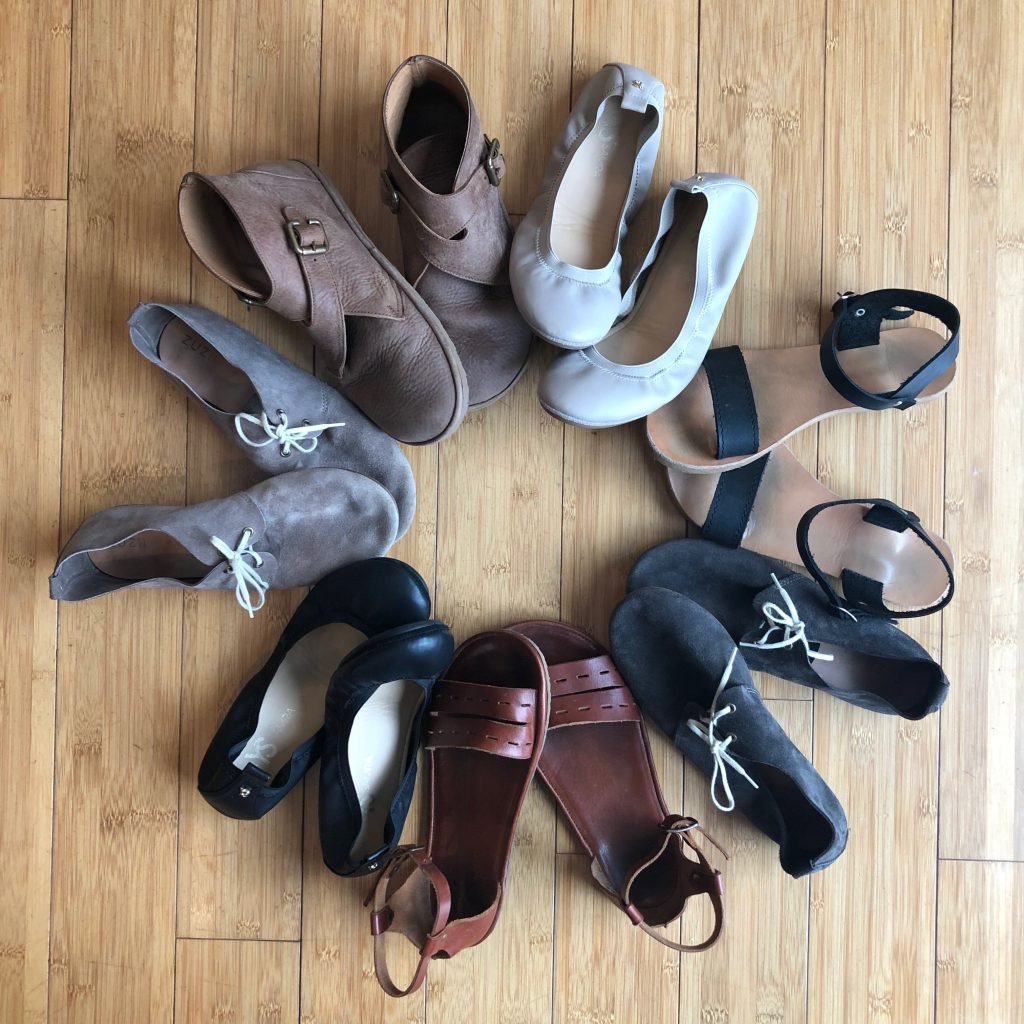 One of the trickiest categories of shoes to find barefoot-compliant is the women's dress shoe. As someone who doesn't want to compromise on style OR foot health, this has been the area I've spent the most time researching. Here is my compilation of shoes you can wear to work or a night out, but are still completely flat, flexible and with a roomy toe box. Some of these I have tried and reviewed, but many of them I have not personally worn, so any feedback is appreciated. Also, remember to do your diligence before ordering to be sure they fit your needs.
Dressy Boots
The Drifter Leather – They have many styles of boots, almost all of which are dressy! Their Vera Riding boots are my favorite – reviewed here.
Vivobarefoot Fulham – See my review here
Crupon Desert Boots – Must request zero drop sole, and no returns/exchanges
Luk Shoes Ankle High Boots
Otz Paso – With insoles removed
Camper Peu Cami – Mentioned in this review, – with insoles removed
Sole Runner Larissa Boot
Vivobarefoot Ryder – If you can get your hands on a pair!
HerHis Ankle Boot – Have never tried personally and am not sure if the materials/manufacturing is responsible, but hear they are flexible and flat
Lace up dress shoes (oxfords)
Vivobarefoot Porto rocker
Soft Star Chukka
The Drifter Leather – Again, many options!
Zuzii Oxfords
Belenka All Year Shoes
Vivobarefoot Handcut Lisbons
Tikki Roots
Lems Nine2Five
Gea Soles – On the casual/masculine side, but can pass as dressy

Ballet Flats + other flat styles
Soft Star Ballerine
The Drifter Leather – Many cute flat styles
Vivobarefoot Jing Jing & Jing Jing II
Vivobarefoot Juttee flat
Oesh Dream Flats – These have more cushion than is typical for barefoot shoes, but they have great reviews and are very cute (look like Rothy's, but without the tight toe box and heel. I tried Rothy's and sent them back).
Leguano Lady Loop
Crupon flats – request Vibram sole. They have several styles, only some of which have a generous toe box. None of them are a traditional ballet flat, but fall in the flat category. No returns/exchanges
Unshoes Primrose – More like a fancy mocassin, not quite a flat
Zuzii Demi Slides (on the casual side, but could be dressed up). Not really flats.
Lisbeth Joe – Once her shoes become available
Mary Janes
Ahinsa Ballerinas
Zeazoo Kids Mary Janes for women
Belenka Ballerina
The Drifter Leather
Soft Star Mary Jane

Sandals
Soft Star Solstice
The Drifter Leather Sandals
Unshoes Saffron
Tikki Sandals
Crupon Sandals – Must request a completely flat sole
High Feels Sandal
Honorable Mention
Yosi Samara (available for cheaper here and here) – This is what I've worn for years. The toe box kind of bothers me after walking a while, but they are zero drop and roomy, with a split sole. Also, more affordable than many barefoot ballet flats.
Crane Boutique – I've also owned these, they have a roomy toe box and are flat and flexible. I sold mine because they pressed down over the tops of my toes and didn't stretch.
Manitoba Moccasins – These flats are completely flat, but the toe box is fairly tapered
Tieks – I thought I better put these on here because they are on KB's shoe list here, but I am personally not a fan. The toe box is SO TIGHT and the sole is very thick (though it does bend in half). There is zero ground feel. I like to toe the line with my shoes when it comes to fashion, but these were not even close to being comfortable.
Zuzii Sandals – These are zero drop and flexible, but the straps that go over the ball of the foot are quite narrow and too painful for me.