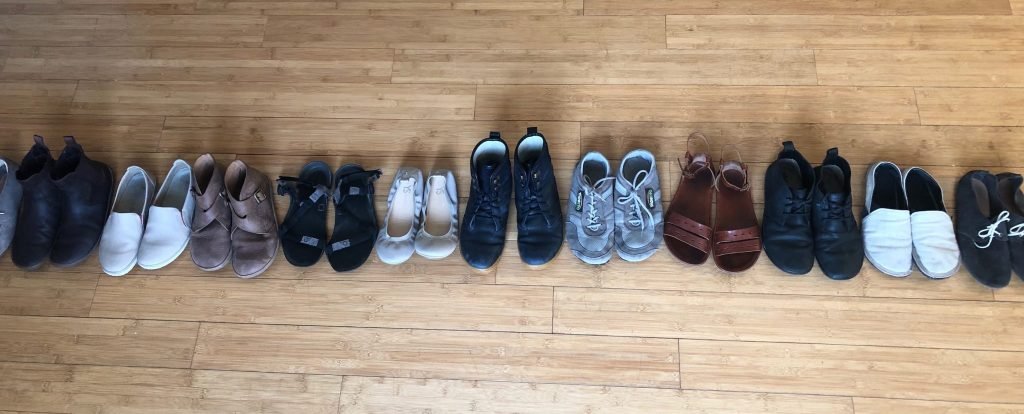 Last updated 2/11/20
Transitioning to barefoot shoes can be pretty costly, and it will take time to build up a solid wardrobe. Below are some more affordable options to get you started! Unless otherwise stated, these links are for both Men's and Women's shoes. I do my best to include everything, but it's worthwhile to check out my other Shoe Lists to see the full range of options out there.
Under $25
Water Shoes – $10 There are several different brands on Amazon, but they all look to be about the same, and all in the same price range. Not sure how they hold up.
Cinderollies – $14 These are cute flats, made with stretchy faux leather. Very minimal, but won't last forever. See my mini review here
Fitkicks – $20 I've heard these are nice!
Bare Treks – $25 There are a few minimal running shoes available on Amazon for quite cheap, though sizing is limited.
Whitin – This Amazon brand has some water and Lacrosse shoes that are $20 and below.
Walmart and Target are both known for having cheap sneakers that are thin and flexible. I always check under the insole in case there's a hidden wedge to take out, and the toe boxes can be tapered. But Faded Glory, Time and Tru, and Mad Love all make minimal sneakers that are very soft, flexible and really cheap.
$50 or less
Sandals
Xero Shoes Sandals– The Jessie, Cloud and DIY Sandals are all under $50
Kionas Sandals (Etsy, Women's) – Leather sandals all around $50 (Must request no heel)
Grecian Sandals (Etsy, Women's) -Leather sandals all around $45 (Must request no heel). See my review here.
Unshoes – Wokova and Keota sandals are $50
Shoes
Zeazoo Kiwi – ($48) These simple shoes can be customized and look like a loafer.
Velho – ($33) Simple sneakers that are lightweight and flexible, but with a slightly tapered toe box. Have not tried these myself, but look like a good affordable option.
Sockwa – I'm not sure if these count as shoes, they're more like socks with a sole. But the Playa line is $30!
Whitin – The running shoes from this brand are around $35
Splay Shoes – Albeit a kid's brand, if you wear a size 39 or smaller you can fit into these $44 sneakers!
Xero shoes – Most of their shoes are priced above $50 normally, but this company has frequent sales and their shoes are often $20-$50. This is a great first barefoot shoe company.
$75 or less
Sandals
Unshoes – Pah Tempe are $75
Luk Shoes (Women's) – Barefoot sandals $75
Tikki Sandals – $67
Earth Runner Sandals – Elemental Sandals $70
Savopoulos Grecian Sandals (Etsy) $60
Greek Sandals Penelope (Etsy) $55
Xero Z Trek and Z Trail – See my Z Trek review here
Zeazoo – Lots of different styles all around $75
Shoes
Unshoes – Terra Vida $74 (My review here)
Xero Shoes – Boaty and Lena are $70
Sockwa Minimal Shoes – $70

Dress shoes (women)
The Storehouse Flats – $60-$75
Paperkrane (formally just a kid's brand) is adding more options for adults. They have a simple Mary Jane that is $60.
Yosi Samra Samara flats (Black is $50-$75) – See my Women's Dress Shoe Roundup for details on these.
Boots
Minnetonka has soft soled leather boots at about $45. they also can be found on Amazon for the same price. They come in men's as well, but are a little more expensive.
$100 or less
Sandals
Crupon (Esty, Women's) – Sandals are around $80. Must request flat sole, and no returns/exchanges. My review here.
Unshoes – Saffron, Uinta are all less than $100. See my Unshoes reviews here.
Luna Sandals – Venado, Mono and Leadville Pacer are under $100
Earth Runners – Circadian and Alpha Sandals $80
Softstar – Solstice sandal $95
Shoes
Luk Shoes (Women's)- Fuego Moccasins $87
Unshoes Forager – $90
Hoss Handmade Oxfords $86 (My review here)
Tadeevo Minimalist shoes $95 (My review here)
Xero Shoes – Terraflex, Pacifica, and Prio are all $90-$100
Astra Loyak water shoes – $85
Dress Shoes
Softstar Solstice and Merry Jane are both $95
Oesh Dream flats (Women's) – $98 See my review here.
Yosi Samra Samara – (Women's) flats in other colors (besides black) $75-$90
Crupon (Etsy, Women's) – Flats are around $100. Must request flat sole, and no returns/exchanges. See my review here
Boots
Zeazoo Dingo – $90 See review here
Xero Shoes – (Women's) Vienna boot $90
Xero Toronto– $100 This high top sneaker boot looks pretty rad.
Paperkrane is releasing a rainbow Chelsea boot in adult sizes for $89
More ways to save
Buying used is a great way to save money, as long as you know what to look for. I don't recommend buying expensive used shoes in a brand you haven't tried before, but if you're getting a good deal and can resell/return if they don't fit, go for it!
Great places to buy/sell used barefoot shoes: